I mentioned in my last post that I had some nail art planned when I wore Jessica Surfer Boyz n' Berry a little while back, and this was it. I first did vintage rose nails
back in May
of last year and kept meaning to have another go, but because I am a master of organization and timeliness, it wasn't until I was knee-deep in trying to write Christmas nail art tutorials and schedule posts for the holidays that I was firmly gripped by the need to do these again. Immediately.
I did them a little differently this time and think they turned out better for it. I did still want to add more detail on the leaves but held off because I just had a feeling I was going to make some mistake that would end in frustration and naked nails (my inner voice is usually such a "Go for it, dude!" enabler that when it's actually urging caution, I try to listen up).
The light pink is OPI Pink Friday, same as last time, but instead of full-on red I did the petal swooshes with a 2-to-1 mixture of Jessica Dynamic and Orly Pixy Stix. The leaves are Essie Pretty Edgy, and the dots are (huge surprise!) OPI My Boyfriend Scales Walls.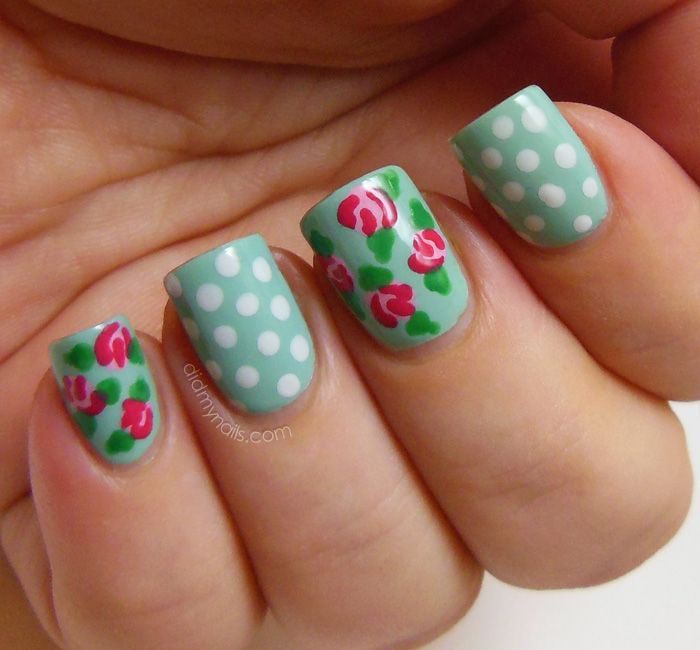 As a bonus, SV only gave me a tiny bit of smudging when I had to paint over my thumbnail a couple of times, and that wasn't even visible in "real life" anyway. I didn't have much time to enjoy these nails, though, since I had so many other things on my to-do list at the time, so I have a feeling it won't be too long before I come back to these again. It really is such a fun design, and it'll be a great one for spring!