This week's TT theme was a fun one! Each of us has received an assignment from a fellow member, who could challenge us to anything. My marching orders came from the fabulous Nory of
Fierce Makeup and Nails
, who challenged me to create a mani inspired by a piece of art. Within minutes I had zoomed over to
art.com
, where I spent the next hour or so searching until I found something I totally fell in love with.
The colours, the composition, the soft yet vibrant mood...I want this hanging in my apartment so that I can look at it every single day. And I knew I wouldn't be able to do it justice, but I wanted to push myself and give it my best shot. All told, I probably spent 4 hours working on my manicure. Colour blocking bases, lightly sponging them with Orly Au Champagne to soften and blend them; doing more acrylic paint mixing than I've ever done to try to come at least close to the colours; cutting down two of my brushes so that I could do some of these really fine lines...
In the end it came out pretty well. Not as well as I'd hoped but better than I realistically expected, so I can't complain. Unfortunately (more like, tragically and profanity-inducing-ly), I rushed my top coat, which led to a lot of smudging. And probably because I was really miffed about that, I did a sloppy job with my final clean up and ended up utterly wrecking two of my nails. The pics were...ugh, they were just terrible. Fortunately, I'd had the foresight to at least take a quick snap before that point, so even if it's not quite "finished" yet, I do have something to show for my evening's work.
Despite not sticking the landing, I honestly had a blast doing these. Thanks for the great assignment, Nory! I'm so excited to see what everyone else's assignments were this week too, so for more "marching orders" please check out some of the other Twinsie Tuesday blogs!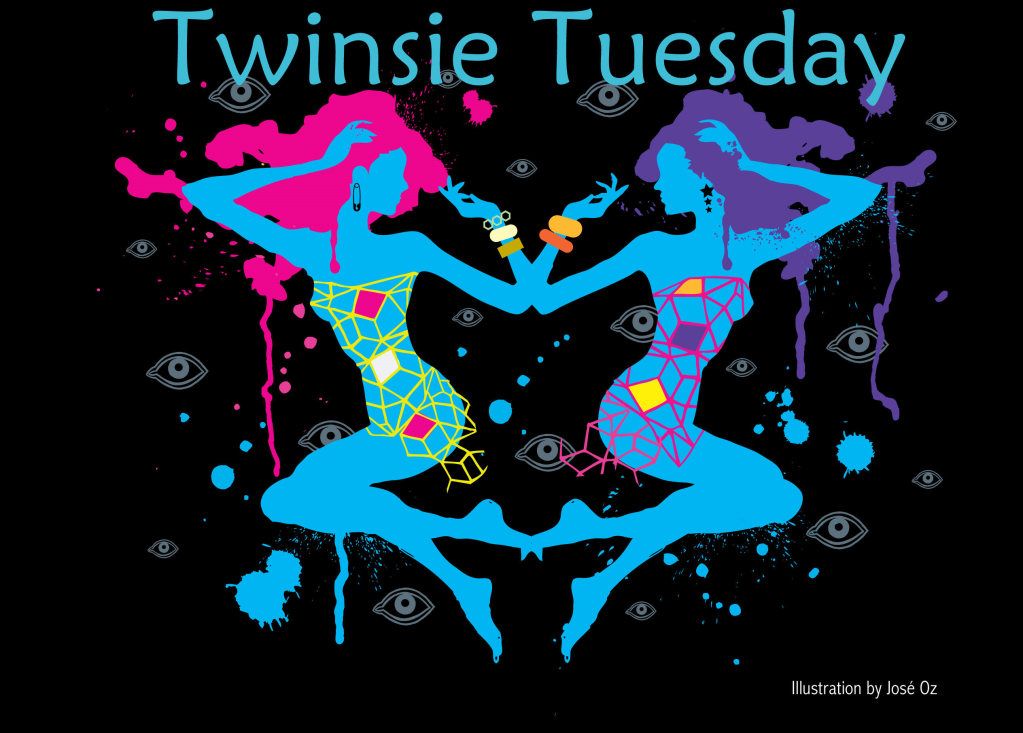 Amanda at
Amandalandish
Anna at
Going to the Showing
Anne at
Grape Fizz Nails
Ashley at
Art Evolve
Brandi at
The Collegiate Nail
Chelsea at
Nailed Blog
ChiChi at
I'm Just Me...ChiChi
Cordia at
Seriously Swatched
Elizabeth at Did My Nails
Jamie at
Polish, Please!
Katherine at
Haul of Fame
Maribeth at
Obsessive Cosmetic Hoarders Unite
Marisa at
Polish Obsession
Meredith at
Polish and Charms
Nory at
Fierce Makeup and Nails
Rachel at
Top Coat It
Sarah at
See Sarah Swatch
Tara at
Polishy of Truth