Welcome to Purple Week! For the next 7 days I'm going to be posting in purple. I've mentioned before--on more than one occasion, really--that purple is not my favourite colour ( <-- tact ). There are shades of it that I like, but overall it's not really my thing. However, the fabulous Amanda of
Amandalandish
is most definitely a purple fan. She also thinks it's a colour that suits my skin tone, and she recently challenged me to spend an entire week wearing and posting purple polishes. I wasn't sure I even had that many purples, but there was really only one thing I could say...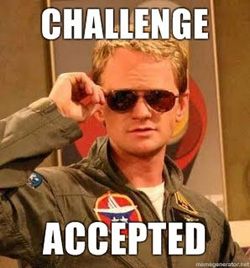 I decided to start this week off with a purple that was actually on my wish list, Color Club Alias, which
Anna
was sweet enough to send me in a recent swap.
Alias, from the Color Club 2011 Alter Ego Collection, is a bold, rich, foil-laden polish with lots of shimmer. It's also a duochrome, which you can see better if you enlarge the pic. The effect is more subdued in the light, but if you check out the bottle you can see what it's capable of.
I was a little disappointed that the duo wasn't stronger, but it's a sacrifice I'm happy to make for the deep, near-vampy, blackened tones that came out instead. The bright, "royal" purple shade is almost a highlight; overall it's more of a dark eggplant on me, and that's just what I was hoping to see.
The formula was a bit thin--I'm wearing 4 coats here for picture-confident opacity--so I'll probably wear it layered over black next time. And there will be a next time! I wear a lot of black, sometimes nothing but, and this should be a great compliment.
This isn't a one-sided challenge, by the way! In return for my spending a week in purple,
Amanda
has agreed to go all turquoise and teals for the duration, since those seem to be my favourite colours to wear. I also upped the ante by challenging her to include at least one glitter and one day of nail art...though she totally foxed me on that one by choosing a week where Twinsie Tuesday already has us doing a nail art theme...but the anti-authoritarian in me is so delighted by her loophole-finding that all I can really do is tip my cap. Well played, Amanda. Well played. Can't wait to see what polishes you picked!