Jessica Surfer Boyz n' Berry is a soft, minty-teal creme; therefore, I love it. And I could probably leave it with just that, but I'm always happy to keep talking about nail polish, especially ones this pretty!
I was going to start this post by mentioning how I've been all about shades like this lately, but honestly, when am I not? Plus these swatches are actually from a couple of months ago (peeking at yesterday's "then and now" I can definitely see how adding a 2nd lamp to my light box has brightened things up considerably since then!). I used this base specifically for some nail art, but once I had it on, I ended up wearing it by itself for a while, just loving the soft, creme finish and the cool, refreshing colour.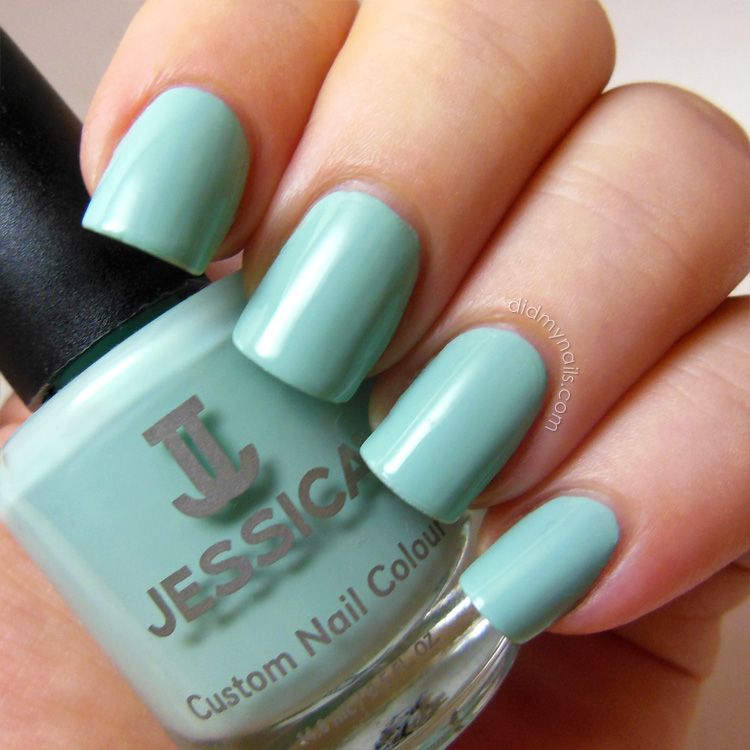 Surfer Boyz n' Berry is from the Jessica Summer 2012 Gelato Mio Collection, and it's exactly the sort of pastel I like--soft and light but with a bright kick to it that really brings the colour to life. Looking at these swatches again, I'm afraid I have no choice but to see what others from this collection might still be in stock because, seriously, LOVE.
Before I go I'd like to give a special shout-out and huge thanks to Heather of
Peace, Love and Polish
for including Did My Nails in her
featured blogs
for February! She really is a total sweetheart, and I'm crazy about her blog, so please swing by for a visit!