My new crush on Jessica polishes continues to grow! I recently bought Jessica Fudge, a pretty brown shade with a hint of golden shimmer to it. It really does look like warm fudge! Only, y'know, with gold in it, which gave me the idea to add a bit of scrolling and some flowers on top.
The design for these is loosely based on
this tutorial
by Robin Moses, whose fun, fast tutorials I really do credit for the inspiration and encouragement to give acrylic paints a try.
In hindsight I'm not sure if blue was the right compliment for Fudge's warm tone, but I do like the contrast between it and the gold...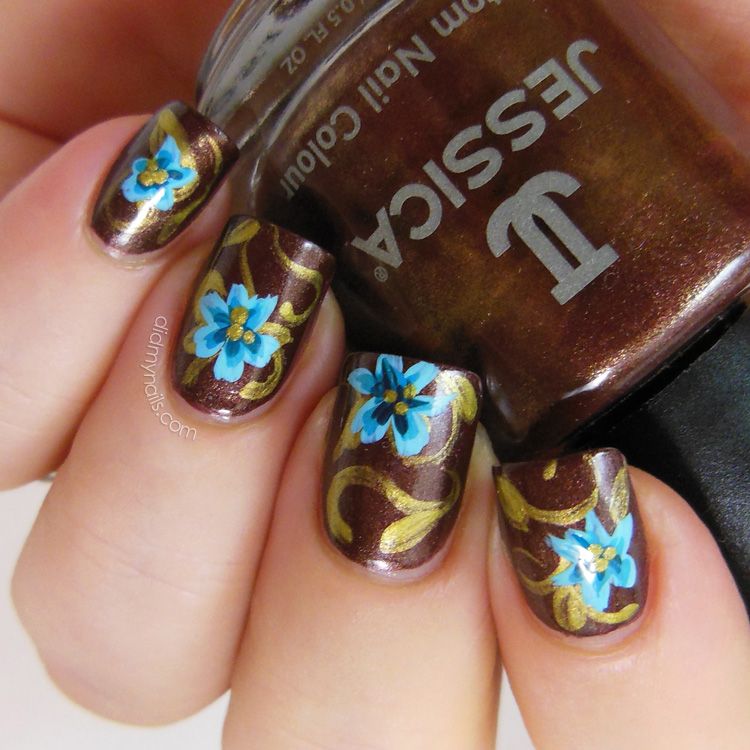 I really have been enjoying learning how to use acrylic paint in nail art. I've always wanted to be able to draw and paint but never seemed to have much of a knack for it. It's fun, though, working on a smaller canvas like my nails, with simple goals--"a few flowers and a couple of swirls" is a lot less intimidating than trying to tackle a portrait or an entire nature scene! An idea that doesn't quite pan out is easily enough removed, and even when I'm not sure if I "nailed" an idea or not, each little success is its own reward, encouraging me to keep at it.
Also, one awesome tip of Robin's that I've wholeheartedly embraced is that when you're doing something like vines or scrolling to go underneath your flowers, you don't have to worry about getting all your curving lines perfect because you can always just put a flower on top of any spot that doesn't come out quite the way you wanted it to. ^_^