I ordered some jelly polishes from Nfu.Oh the last time I was in the States, thinking I would probably tuck into them as soon as I got back, but then I kind of got stuck enjoying the anticipation and kept holding off. I'm usually rubbish at delayed gratification, but after six months (!) of waiting, I couldn't be happier with the results.
These jelly sandwich nails combine Nfu.Oh JS10 (a soft, warm-leaning pink) and Confetti Tasmanian Devil (a multi-sized rainbow glitter in the same vein as Deborah Lippmann Happy Birthday and OPI Rainbow Connection). The pink jelly glided on beautifully. Great consistency and very easy to control. I did 3 coats of it first, building it to still-squishy opacity. Then one coat of the glitter (which also behaved perfectly--random, even distribution, with no wrangling or dabbing necessary), and one smooth coat of the pink on top. SV top coat and finished.
I called the pink in my last manicure "bubblegum," but it's more of a bright, Barbie shade.
This
is totally bubblegum, especially when you add the soft, jelly texture to it. And with the way the layer of pink softened and, well, sweetened the rainbow glitter, it's no wonder that Deborah Lippmann (and Claire's) named this combination Candy Shop!
At the end of the day, the plan was to give this a quick dose of matte top coat, just for fun and pictures before I took it off, but the plan changed as soon as the matte took hold. I literally gasped at the pretty, and these nails stuck around for another day.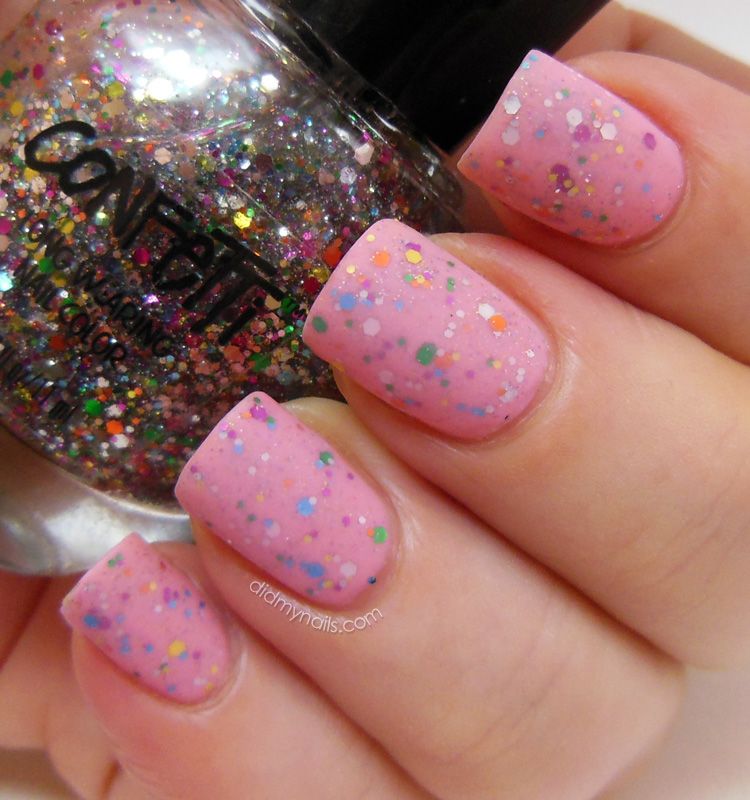 The last couple of days have been crazy hectic, full of errands and waiting and stressful, pushy crowds, but every time I looked at my nails I couldn't help but smile. If you can get Nfu.Oh polishes where you live, I am officially jealous of you because seriously, LOVE.