Today I have another one of the Color Club Halo Hues, Halo-Graphic, a beautifully holographic, dusty pink. The linear holo effect is every bit as strong as the other Halo Hues I've tried, but the base colour itself is also more pronounced. Of the two pinks in this collection, Halo-Graphic is the darker, more pigmented one, which is why I chose it, and along with
Blue Heaven
and
Cherubic
, it's a great addition to the collection!
I'd hoped my outdoor photography might fly under the "baffled neighbour" radar this time, but it was not to be. One gentleman was so perplexed that I got the complete owl, with his head swiveled almost a full 180 degrees and a look of bewilderment on his face at what the crazy lady was doing, but considering I get much the same confused look for holding the door for people here (apparently that's wildly strange), I'm not going to stress it. Worth it to show this puppy off in daylight!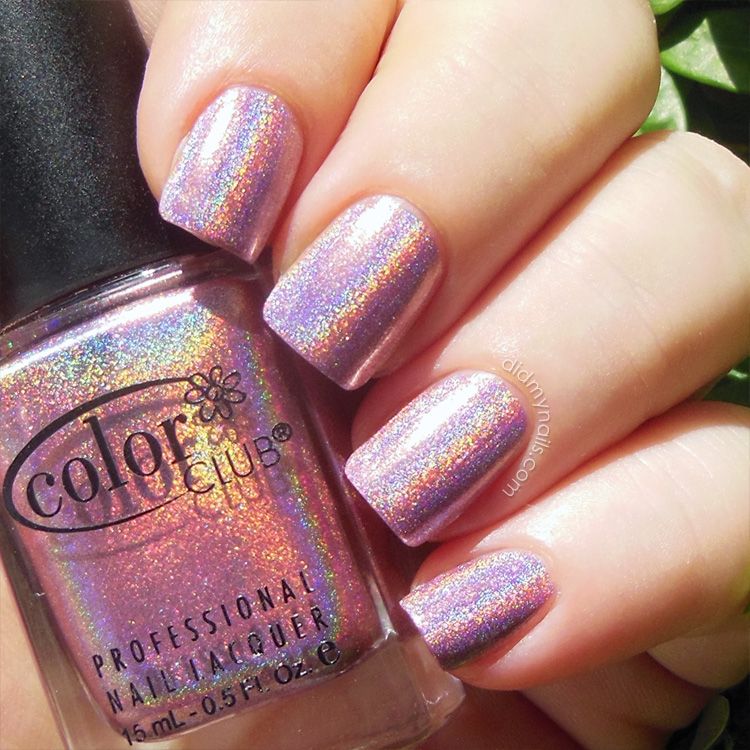 Still, part of the reason I've been so into this collection is that while the holographic effect is bananas in direct sunlight, it's also beautifully brilliant indoors. A lot of holographic polishes, both linear and scattered, fade to a nice (but less impressive) shimmer inside, but every Color Club Halo Hue I've tried has been full-on stunning, even in a dimly lit hallway...
...which my light box is not, but this is still without any flash to boost the holo effect. Plus I particularly like the soft, lilac-leaning pink of Halo-Graphic. I only have one or two more Halo Hues from the Christmas-time collection to swatch, but from what I've seen of the upcoming spring-time additions, they won't be my last!