Whoops, spent a few days away and forgot to schedule any posts! No worries, though. Fun was had at HK Disneyland, and I'm back in the swing with Midnight in Schuman Forest, from Lacquistry.
Midnight in Schuman Forest caught my eye with its pretty, jewel-toned colours. I'm usually into brighter shades, but I really like this combination--its rich, deep colour scheme still has plenty of sparkle and shine! It includes large, medium, and small hexes of navy, green, silver, and brown, all in a clear base. Here, I'm wearing about a coat and a half over Essie Going Incognito (a dusty forest-green with a hint of teal). The glitter applied easily enough with a mix of stroking and some dabbing to fill a couple of spots, lying flat and looking glassy-smooth with a coat of SV on top.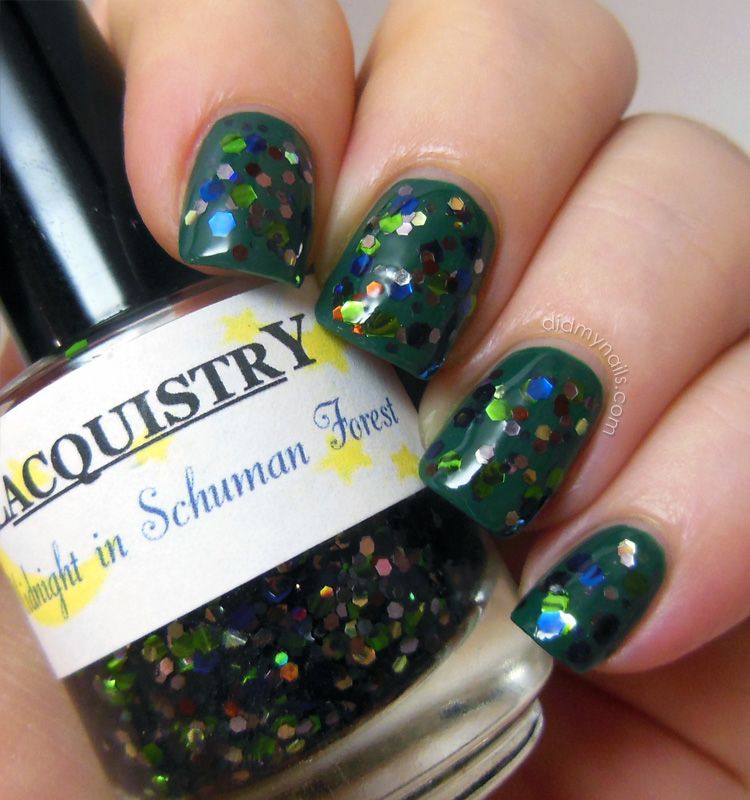 Midnight in Schuman Forest isn't currently listed at
Lacquistry's etsy shop
(was it a Limited Edition?), but after a good first experience with this brand, I'll be ordering a couple more in 3...2...1...