One more Christmassey (Christmas-y? Christmish? Three words in, and I'm befuddled by an adjective). Ahem, starting over. One more
Christmas
design before the big day, and for this one I decided to stretch myself a little and try painting some poinsettia nails! Drawing from a
Robin Moses
design and having next to no idea what I was actually doing, I pretty much grabbed some polish and a paintbrush and had at it.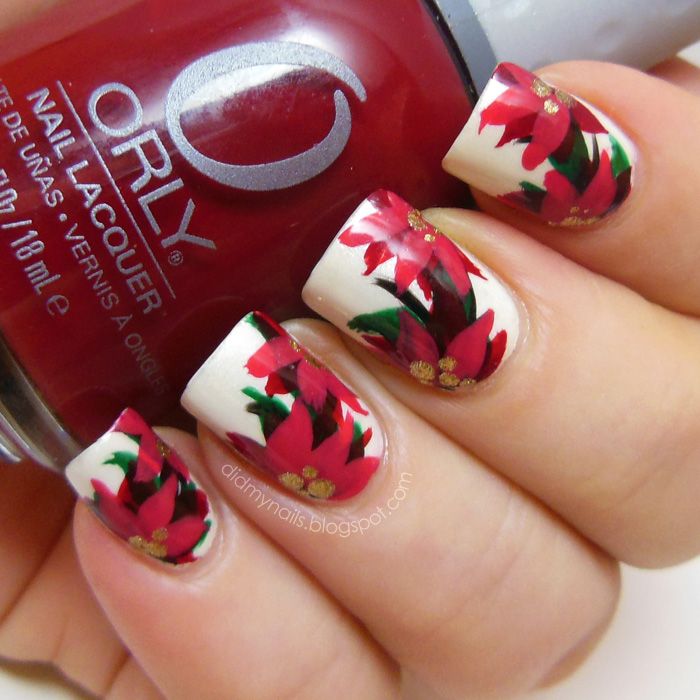 The base is Bandi Snow White with a coat of Orly Au Champagne on top to soften it just a bit. After that I did a few basic, background swooshes of black, then some Bandi City Green leaves, followed by dark red petals of Orly Grave Mistake, then a mix of reds for the lighter petals, finishing with Zoya Ziv dots of gold.
I've done flowers lots of times before, but this is the first time I've taken a paintbrush and actually "painted" something, instead of using dotting tools or nail art stripers. Of course, being my toughest critic I'm all about seeing the flaws, but I can also say that it certainly turned out better than I'd have expected from my first real "painting" attempt. So, something to build on, yay!
As I've mentioned, my posts this week have been scheduled ahead of time, and I apologize for not being able to check in on everyone's blogs while we're away. I hope everybody's having an amazing week, though, and a very Merry Christmas!