I spent months oohing and ahhing and totally fangirling over swatches of CrowsToes polishes before I finally placed my first order through
Llarowe
, for Absolum and Frogs' Breath. When they showed up I gave myself this pep talk about not setting my expectations too high, telling myself I might have to wait until they were applied and in the sunlight or my light box before I really saw the same sparkle and brilliance I'd seen online. Then I opened the package...Y'all, I squeaked. Long and loud. I fully assume that dogs on the other side of the harbour were whipping their heads around all,
"What was THAT?!"
I decided to wear Frogs' Breath first, and I do not have the words for how much I love this polish. Seriously, words fail me. But I'll try to come up with a few anyway...
This is two coats (one regular, one dabbed) of CrowsToes Frogs' Breath over OPI Don't Talk Bach to Me. I chose this mustard-lime shade, hoping it would compliment both the green and the gold in Frogs' Breath while still offering some contrast, and I think it works. I never know if I'm choosing the right undies to show off a glitter at its best, and there is so much best to show off with this one! That sparkle I was hoping to see? In spades. Giant, heaping spades of sparkle and colour and holographic brilliance.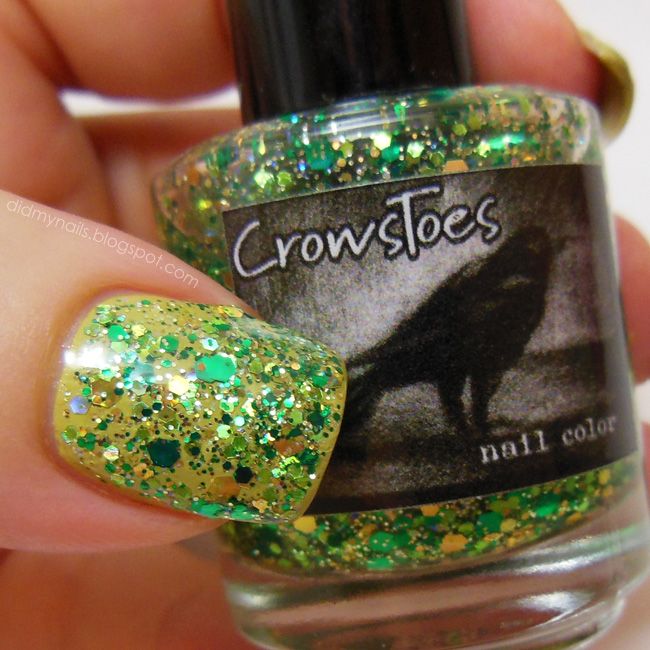 I feel like there's so much more I should be saying about all this vibrant awesomeness...hopefully I've managed to convey my key points, which are:
I am officially smitten with CrowsToes polish.
I have been literally stunned by this gorgeous, gorgeous glitter.
I am so excited to try Absolum now, just as soon as I can decide what polish to pair it with, and there's an envelope on my couch that I'm waiting to open until I finish my "to do" list for the day (item: obligatory
giveaway
mention? check!). It should contain Maxxed Out, from the CrowsToes Christmas collection. Local canines, consider yourselves warned.