Halloween may be over, but I had one more "spooky" nail art design in me. After seeing those adorable transfers in the OPI So So Skullicious mini-set I decided to try my hand at some sugar skull nail art for Día de los Muertos, the Day of the Dead.
Traditionally a Mexican holiday, Day of the Dead is observed during the first two days in November to honour and celebrate those who have passed away. As part of the festivities and remembrances, decorative sugar skulls are among the offerings given to welcome the spirits of the departed.
I've been using the softer, more muted OPI My Boyfriend Scales Walls a lot lately, but since I wanted these sugar skulls to be bright and colourful I used China Glaze White on White as my base colour. Aaand that's about as far as my planning went. After that I just started winging it with dotting tools and some of my brightest colours: China Glaze Sunshine Pop (yellow), OPI In My Back Pocket (orange), OPI Fly (teal blue), OPI Do You Lilac It? (lt. purple), China Glaze Hang-Ten Toes (neon pink), and China Glaze I'm With the Lifeguard (neon lime). Also China Glaze Liquid Leather (black).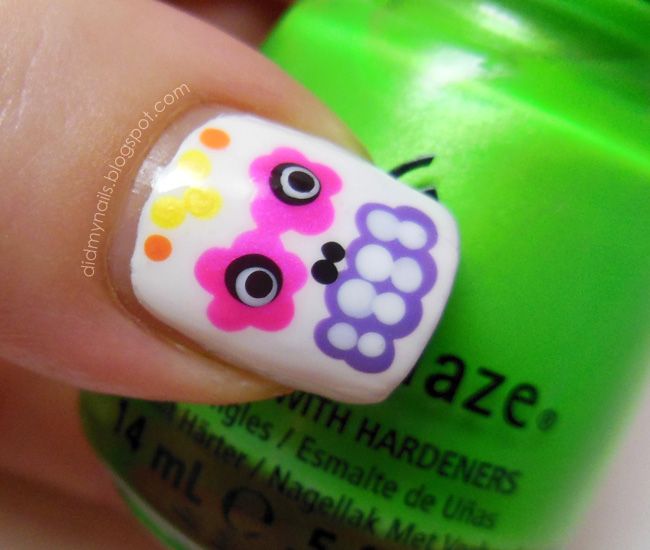 The mouths are larger dots of the different colours with smaller, white dots on top for teeth. Two very tiny, black dots for the noses. The colours around the eyes are supposed to be flowers, with black, then white, then black again on top. And then a few more dots of colour on the foreheads...although my lack of an actual plan kinda shows there because Husband asked me why I was putting Mickey Mouses on my "zombies" (which he might have felt bad about because he then pretended to be happy to hear that I was going polish shopping this afternoon).
Next time I do these I think I'll make a couple of little changes (aside from the "Mickey Mouse" part ;p). Instead of doing the 2nd dots of black for the eyes, I'll either do another bright colour over the whites or go all out with some rhinestones. And I won't do yellow behind the white for the teeth because it's a little hard to see the contrast between the two. On the up side, I took a risk and dotted white right on top of the lime green mouth, and for once it didn't bleed through! One for three with that combo for the week!
Since I was rushing out the door today I didn't have much time to do my other hand, so I just did a "skittle" on that side with some of the bright colours and inadvertently stumbled onto another Halloween nail idea... Without even meaning to, I painted my right hand all
Ice Truck Killer
, a la Dexter.
That was freaky.