Ein prosit! Now that November is almost over, I'm finally posting my Oktoberfest nail art! We actually did go in November, though--back on Saturday the 3rd--to the
German Bierfest
at the Marco Polo Hotel, here in Hong Kong. Glasses were raised, chickens were danced, friends were made from Japan and Australia, and nails were painted for what has been an annual tradition since we moved here.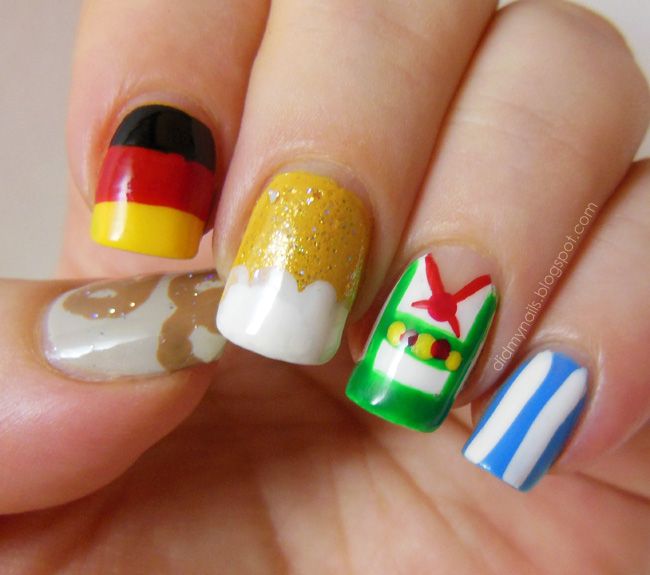 My thumbs were OPI San Tan-tonio pretzels dotted over Zoya Dove, with Orly Shine On Crazy Diamond "salt" on top. The German flags on my index fingers are a simple tape block of OPI Need Sunglasses?, Revlon Fire, and China Glaze Liquid Leather.
The middle fingers are my favourite, even if I probably should have done them the other way up. Whatever, hooray for beer nails! The amber yellow is Jaune trendy by Bourjois, with glitter Revlon Gold Jewels "bubbles" over it. The tips are dotted with both OPI My Boyfriend Scales Walls and China Glaze White On White.
Ring fingers are attempted lederhosen, which is what the most excellent band that plays our Oktoberfest wears. Theirs are brown, but I don't have a brown striper. Thus, bright green lederhosen. And my pinky nails are Revlon Coastal Surf blue and random nail art striper white to match the tablecloths at the event. (I wanted to do the blue/white Löwenbräu diamond pattern, but that just was not going to be happening in the time I had left before the party, so...the tablecloth.)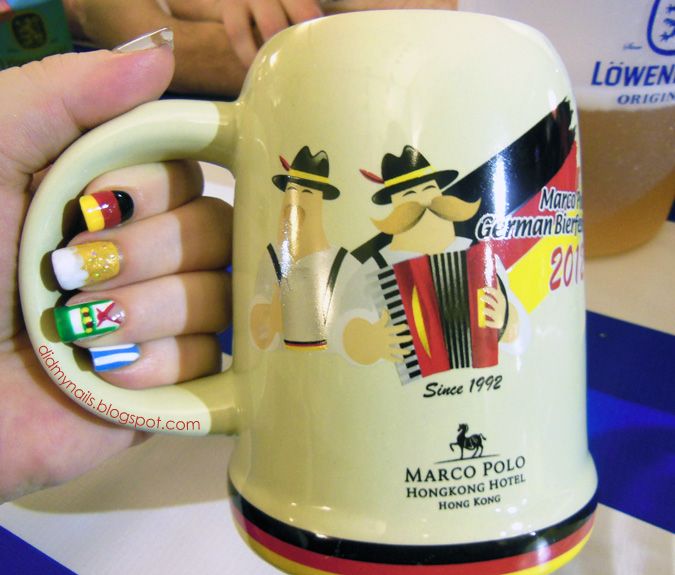 Already looking forward to next year...eins, zwei, g'suffa!!