I was so excited for the Zoya Gloss Collection. After seeing swatches of these three gorgeous jellies, I couldn't wait to get my hands on them! So, dreaming of all the deliciously squishy jelly sandwiches I would make, I stalked my local store's website for updates and was lucky (and speedy) enough to grab all three...Even staying on top of the new arrivals, I literally walked out with the last complete set they had. Phew!
For my first jelly sandwich manicure from this set (and I suspect there will be many, may more ;p), I chose Zoya Paloma and OPI Teenage Dream.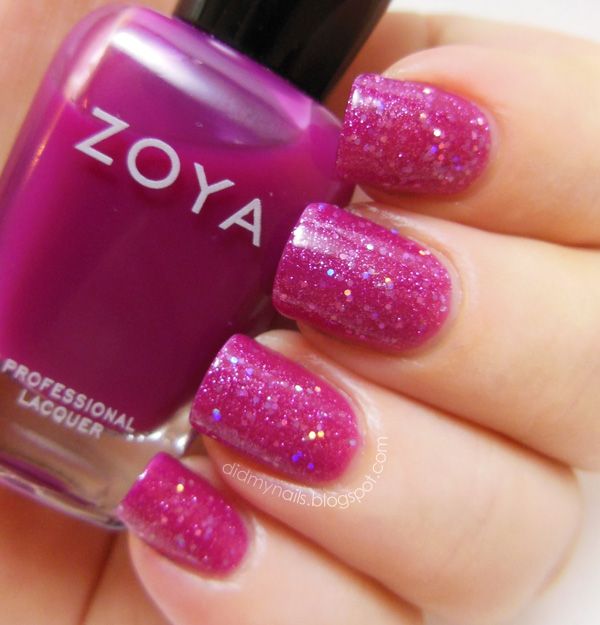 I love, love, love this combination!
Paloma is a bright yet rich shade of, um...magenta? Mellow fuchsia? Purpleberry pink. I'm not sure exactly what to call it, but I love this unique colour. And the formula was just amazing! Thin but not runny, it went from sheer to very nearly covering even my stubborn nail line in just about 3 1/2 coats. If the others in this collection (teal Frida and aubergine Katherine) are anywhere close to Paloma for colour, coverage, and texture, I'll consider that time I spent stalking their arrival very well spent.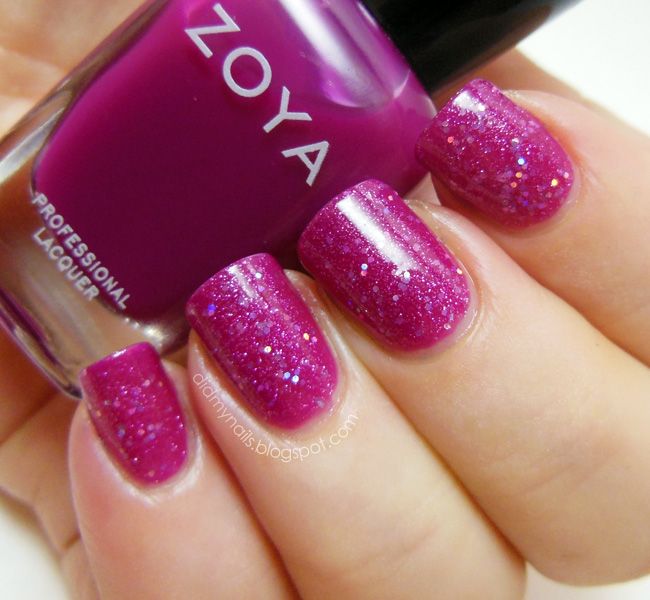 After the base of Paloma I added about a coat and a half of OPI Teenage Dream, a pale but brightly holographic glitter in pink from the Katy Perry Collection. Then another coat of Paloma and some Seche Vite on top for squishably sparkling goodness. I could have used another coat of Paloma to "sandwich" the glitter a little more, leave it just a bit more suspended in the jelly instead of near the top, but I've lost count of how many times I've had to scuttle a good manicure that I overcooked by trying "just this one more thing." I decided that I loved this one just the way it was.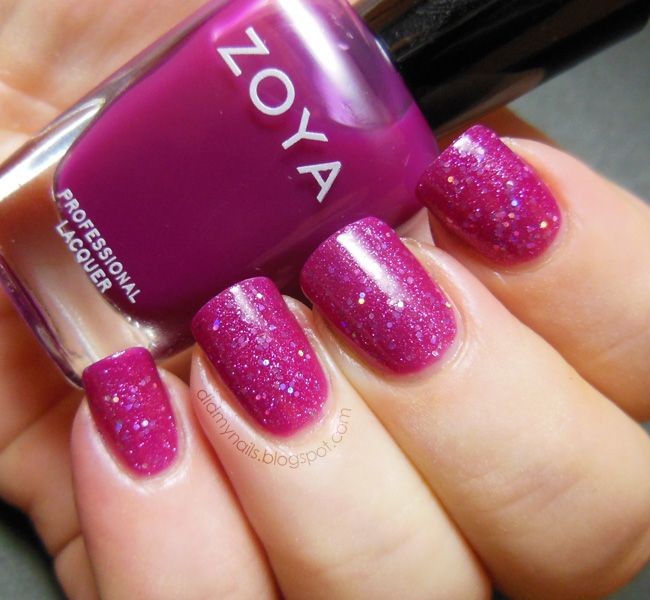 Much as I love glitters and jelly sandwiches, this was actually something of a different look for me. I usually lean more towards blues and greens, but I really do love the colour pink. And seeing this lush shade of it paired with such brilliantly sparkling glitter, it's probably the most quintessentially "girly" manicure I've worn in a while. Even with high hopes for Paloma, I was surprised by just how much I loved this combination. In fact, it made me feel pretty much exactly like this: