This giveaway has ended. Many thanks to everyone who visited and entered!
Today marks my 100th post on Did My Nails! I wanted to do something fun to mark the occasion, so I'm having another giveaway to say thank you very much to everyone who has stopped by, maybe left a comment, even decided to follow. I've said before that I'd probably still be doing this, even if it was just me looking at pictures and remembering that time I did that thing, but having you guys drop in makes it so much more fun. Sincerely, thank you very, very much!
And yes, words are nice, but so is free stuff, so without further ado...the goodies!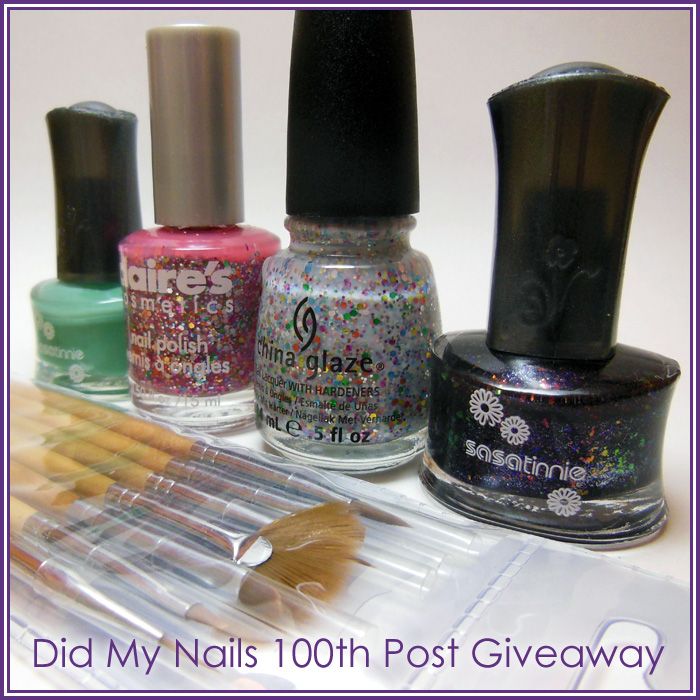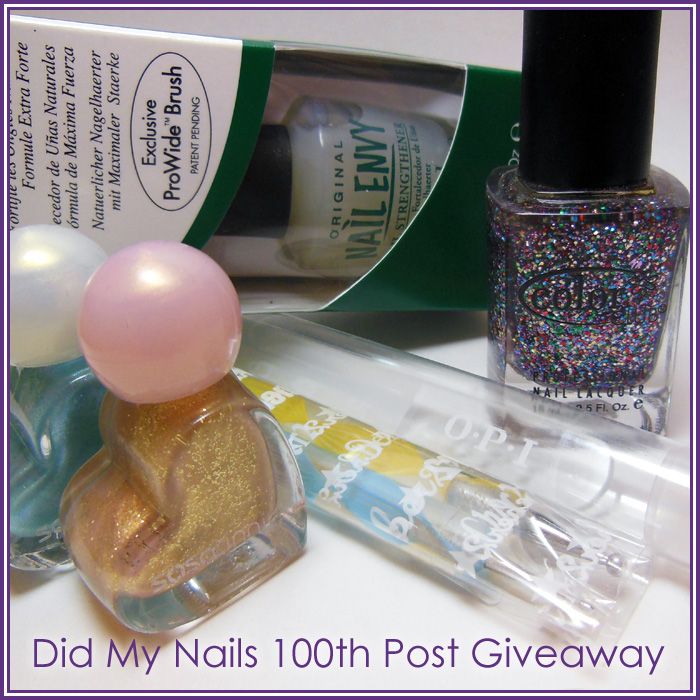 I couldn't decide on a giveaway theme, so there's a little bit of everything (and much of it sparkly). Polishes included are China Glaze It's A Trap-eze!, Color Club Wish Upon A Rock Star, Claire's Candy Shop, 2 Sasatinnie polishes (teal green and FCGL002, the Orly Fowl Play dupe I posted about
here
, 2 Sasatinnie minis (gold and lt blue shimmer), and OPI Nail Envy Base Coat. Also, in addition to the polishes, I'm including a set of nail art brushes, a pair of dotting tools, and an OPI crystal nail file.
As before, this giveaway is open internationally, and there are just a couple of requirements to enter. One, be a public blog follower of Did My Nails via Google Friend Connect (GFC). Two, please leave the best email address with which to reach you so that I can contact the winner. There's also an entry for posting about the giveaway on your blog/site, but that's totally optional.
This giveaway will be open for 2 weeks, after which I'll email the winner. S/he will have 48 hours to respond, or another winner will be chosen. I can't take responsibility for you receiving the email, so be sure to check your spam folder. I'll also post the winner's name here on DMN. More boilerplate, please have a parent's permission to enter if you're under 18 because I'll need a full name and address for mailing out the swag. If I think of anything I missed, I'll be sure to add it here, but that's probably enough blah blah blah...time for the widget!
a Rafflecopter giveaway
Thank you again, so very much, for visiting Did My Nails!