Today's Twinsie Tuesday theme is, appropriately, Halloween nails! With several more designs I wanted to try before tomorrow, I was having a hard time narrowing down my choices, until I decided not to choose at all and just have at it. In the end they turned out a little rough around the edges, but they were so much fun to do!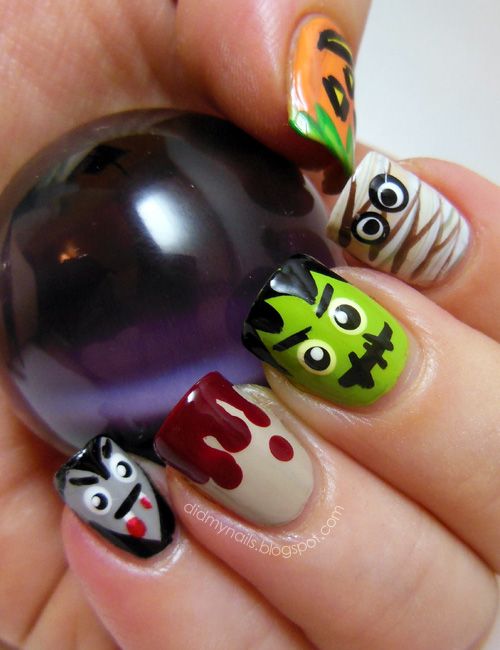 When I was little, I got so excited every year when my parents took the decorations out of the attic for Halloween. As much as I've always enjoyed this spooky holiday, though, I've also always been a total chicken. I like my creepy with a healthy dose of cute, which is why I especially loved these little monsters. They're not terrifying; they're just misunderstood!
There are tutorials for all of these on YouTube, and I must have watched every one of them over the past few months, just looking forward to Halloween. Might've helped to actually *try* some of them first, before I was out of time, but hey, lessons learned. And speaking of which, I totally forgot the lesson I learned
just yesterday
, which was that if I'm going to dot white over lime green, I need to do a layer of clear or top coat in between because otherwise the white will go all yellow-y. Lesson officially re-learned.
The basic polishes are Zoya Dove (Dracula), Orly Grave Mistake (blood drops), Sally Hansen Grass Slipper (Frankenstein's monster), OPI My Boyfriend Scales Walls (mummy), and OPI In My Back Pocket (jack-o'-lantern). Several stripers, lots of playing with dotting tools. And while the mummy is actually a water marble of about 5 or 6 different colours, they're close enough that when I applied my top coat (Seche Vite as usual), they pretty much blended together, which made me glad I'd decided beforehand to use a brown striper to add some extra bandage lines first.
All in all, not my best nails ever, but I still think they're cute. Wishing all the best to everybody riding out Hurricaine Sandy, and I hope everyone has a safe and happy Halloween. And for more Halloween-inspired nails, check out the rest of the Twinsie Tuesday blogs!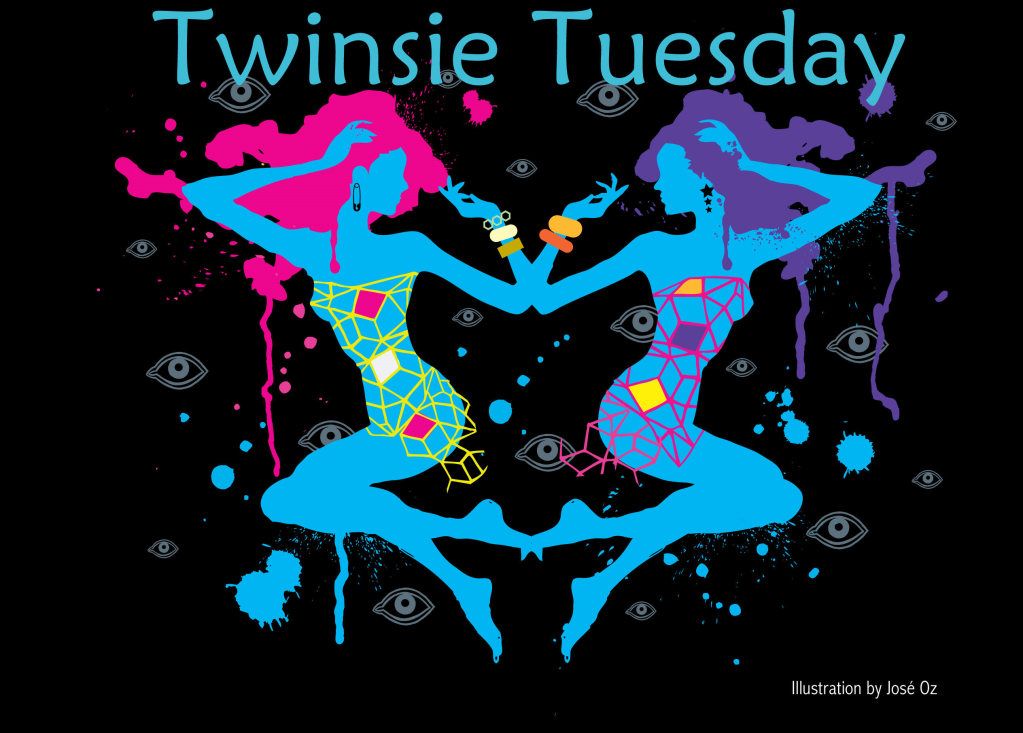 Amanda at
Amandalandish
Anna at
Going to the Showing
Anne at
Grape Fizz Nails
Ashley at
Art Evolve
Brandi at
The Collegiate Nail
Chelsea at
Nailed Blog
ChiChi at
I'm Just Me...ChiChi
Cordia at
Seriously Swatched
Elizabeth at Did My Nails
Jenn at
All That is Gorgeous...
Jenna at
I'm Still Thinking...
Katherine at
Haul of Fame
Maribeth at
Obsessive Cosmetic Hoarders Unite
Marisa at
Polish Obsession
Meredith at
Polish and Charms
Nory at
Fierce Makeup and Nails
Rachel at
Top Coat It
Sarah at
See Sarah Swatch
Tara at
Polishy of Truth