I really enjoyed Zoya Dove on its own for a couple of days, but
Jenni Lee
got me thinking about what I could do on top of it. And since it seemed as good a time as any to give stamping another try, I went with the ink splatter on Konad plate m21.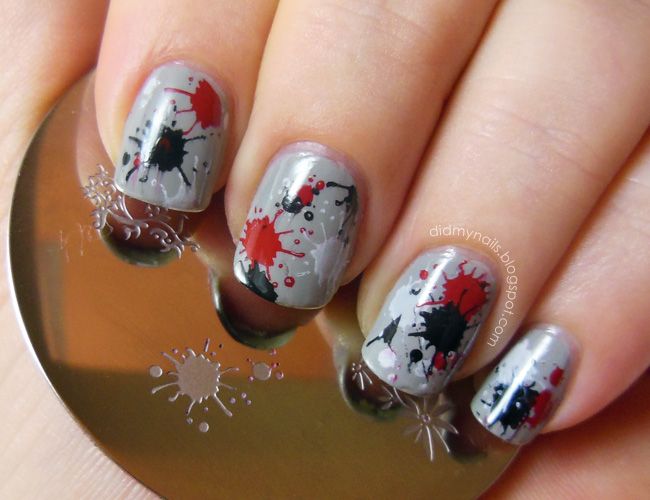 Ermagerd! It worked! Sort of. But I'm not going to complain because "not a total failure" was a HUGE step forward for me!
I really do think this is the perfect stencil for learning how to stamp. Previously I'd tried larger, more detailed patterns that, if you mess them up, leave the whole nail completely ruined. With this one, though, it's okay if you get it a little messy because it's all a-splatter anyway!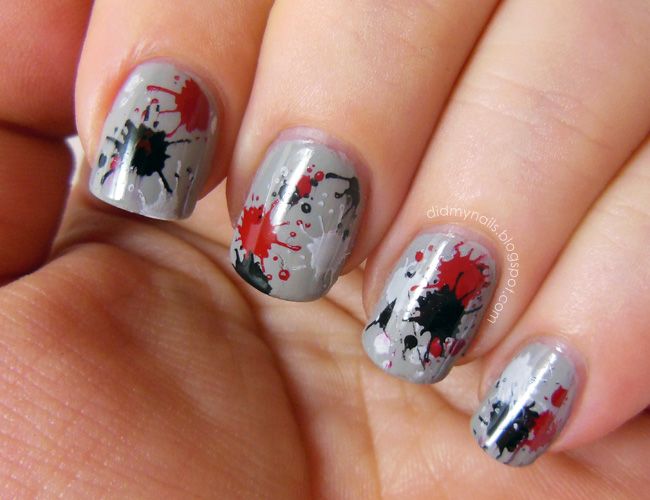 You also don't have to worry about getting this one perfectly centered or lining it up facing just the right way because the whole point is for it to look random and jumbled up. There's a spot on my ring finger where I somehow managed to get only about half a blob of black on there, and I don't even care. From any distance at all it looked great! The same goes for having smudged it a little with my top coat. All the little flaws actually worked
with
the design, and instead of being all frustrated and tossing my stamping stuff in a drawer for another month and a half, I'm looking forward to trying it again soon.
The biggest thing I figured out since my last attempt was not to press too hard when you're applying the stamp to your nail. I was, like, mashing it on there as if it were an ink stamp, and it just pulled the polish back up again when I lifted the stamper away. Once I quit that and just rolled it onto the surface--like every tutorial says you're supposed to do, but I apparently couldn't be bothered to listen--it started working great.
I used Konad special polish red, black, and white for this mani, which are the only three I bought at first. Now I'm looking at what other polishes I have that might work for stamping, what other Konad polishes I might want to get, and what other plates I'd like to try next because now that I've started to wrap my head around the basics of stamping, it's really a lot of fun!