It's been kind of a blah week, full of migraine-y not-goodness, so I haven't gotten a lot of nails done. Fortunately I've been saving some pictures of a beauty of a polish for just such an occasion: Deborah Lippmann Sweet Dreams.
Sweet Dreams is a perfectly Barbie pink with generous amounts of golden flakes throughout that somehow manage to make it both more girly and more mature at the same time. I love this polish!
The first coat goes on quite thin, but it builds nicely from there. Two generous coats may be enough to suffice for opacity, at least for casual, daily wear, but I'm wearing three because the whites of my nails just love to photobomb. And also because I didn't want to stop painting yet, because it's just so pretty!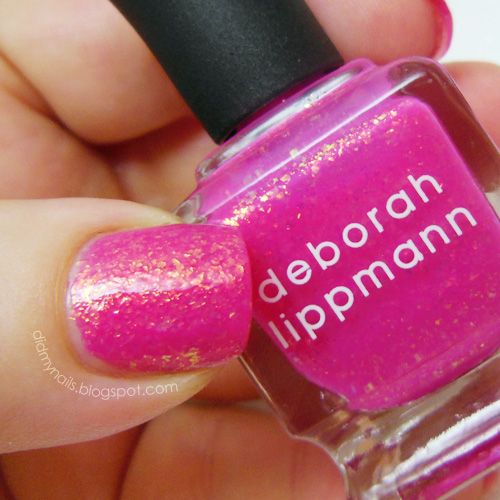 With all the flake-y goodness packed into this polish, it does dry a bit rough, and one coat of SV really helped to bring out the shine. I'll probably use two coats next time, just to smooth and shine it up even more, but that's strictly a personal preference thing. I already think it's beautiful as is.
Seriously, what kind of mad alchemist is this Ms. Lippmann? Sweet Dreams is eye-catchingly brilliant without being gaudy, youthful yet refined. It's creative and fanciful without clamoring for attention. And it's named for one of the most awesome songs in the history of awesome songs.
Yeah, I think it's official; I have a crush on a bottle of nail polish.