We just spent a couple of days out at Hong Kong Disneyland, and I couldn't think of a more appropriate polish to wear there than Sinful Colors Cinderella.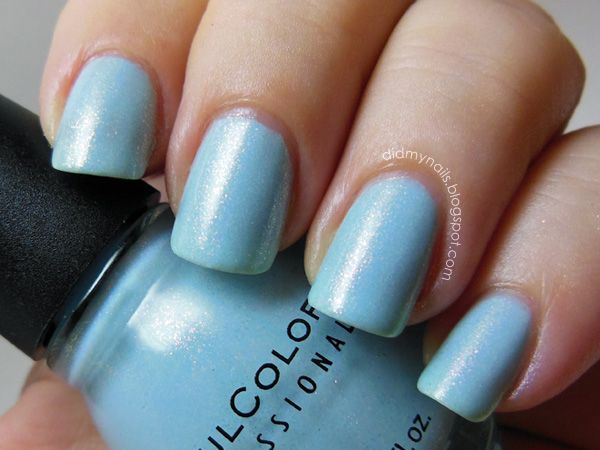 Cinderella has been all over the nail blog world for what seems like ages. If you aren't familiar with it, it's a soft, semi-sheer blue with a pretty pink shimmer. It's also one of those polishes that's hard to do justice to in pictures because the shimmer is so much more prominent than I was able to capture. But not for lack of trying!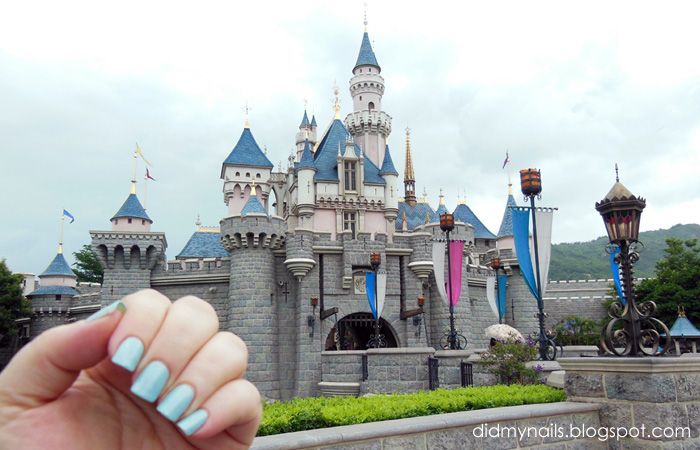 In front of Sleeping Beauty Castle, Hong Kong Disneyland's pint-sized princess palace.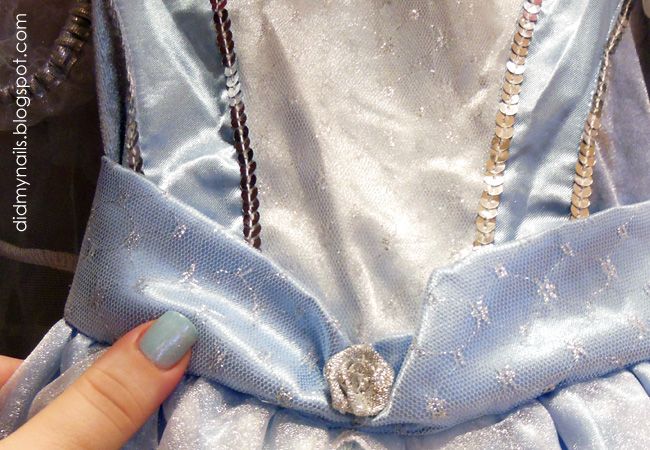 With Cinderella's ball gown, also pint-sized, for tiny princesses.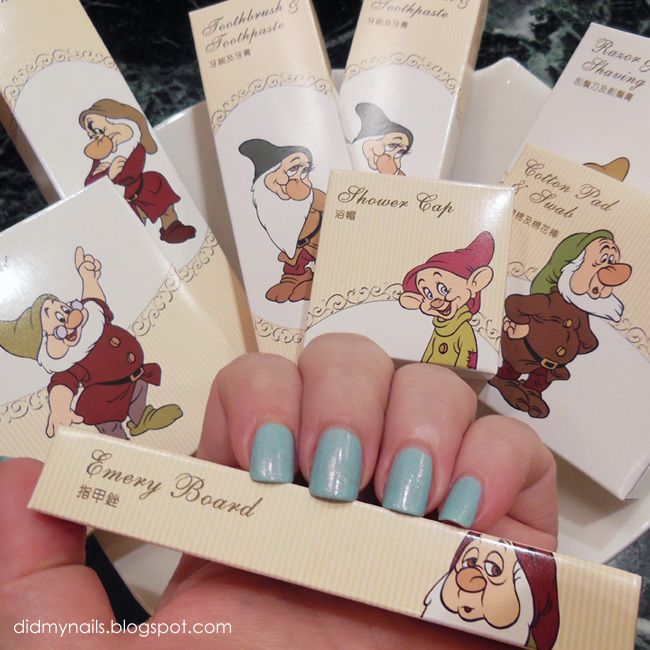 This blue polish hasn't lobstered my entire hand--this is actually after a day at the park, and I sunburn just that easily. Totally worth it, though. We had a great time! Two new "lands" recently opened there, Toy Story Land and Grizzly Gulch. Toy Story Land has the most awesome RC Racer ride, kind of like the "Flying Dutchman" rocking pirate ships you see at other amusement parts, and the new Runaway Mine Cars in Grizzly Gulch was a total blast. And next year, we should be getting a brand new version of the Haunted Mansion called Mystic Manor. I can't wait to see it!
So that's where I spent the middle of this week, and being a sucker for all things Disney Princess, I especially enjoyed having fingers and toes all decked out in Sinful Colors Cinderella for our stay. One thing I especially like about this polish, though, is that while it's perfect for a princess, it's not obviously princess-y. It doesn't look too young or cutesey. Totally independent of its namesake it's still a lovely, shimmery blue, perfect for spring, for a trip out to the park, or for any time you just want a little bit of soft, happy colour.
This is three coats of Sinful Colors Cinderella with one coat of Sally Hansen Insta-Dri. I still couldn't capture the full extent of its pretty pink shimmer, but if you look at the bottle, it's very much like that. Seriously beautiful.