Even though I'm ready for some deep, rich autumn colours, I keep coming back to the bright shades of spring and summer like this one, Grass Slipper, from the Sally Hansen Complete Salon Manicure line.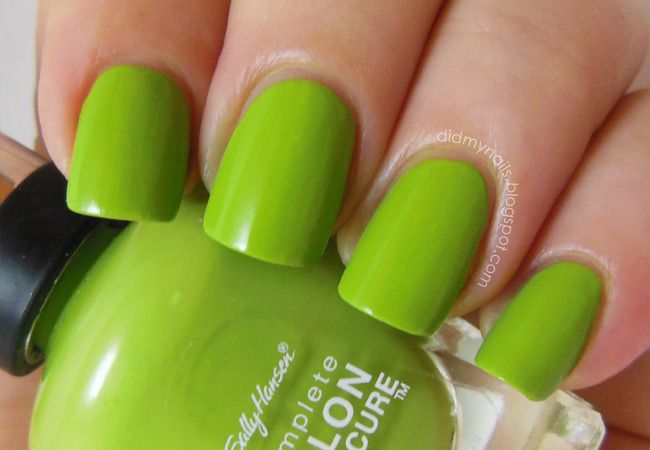 I think I'd love it for the name alone, but I'm crazy about the colour too. This springtime, grassy green has a touch of acid/neon lime that really gives it an extra kick.
This is the first Complete Salon Manicure polish I've tried, and I love the bottle. I also really like the brush as well. It's wider than most, which means it may be a little unwieldy for some, but it was perfect for my gimongous nail beds. I wouldn't rate it very high when it comes to self-leveling, but that's another plus with the bigger brush: fewer strokes to have to smooth together.
Sally Hansen calls this line "Complete Salon Manicure" because you're supposed to be able to use it by itself, without any base or top coat; it's all included in this one formula. I did find Grass Slipper's finish a little semi-matte when it dried (possibly due to the neon in this green?), so I used a coat of their Insta-Dri Anti-Chip Top Coat over it. And because I wanted to be cautious with a shade this yellow and bright, I went ahead and used my OPI Matte Envy base coat first, just to be safe. Good thing I did, too, because this polish stained like mad. So despite whatever base coat may be included in the formula, I'd actually recommending using
double
your usual base coat, at least with an intense shade like this one.
All considered, I'm not as impressed with Grass Slipper's formula, but I'm still crazy about the colour.