alternate title: I'm baaaack!
So after a month on the road I'm finally back again and nearly over some truly colossal jet lag. Shipped myself a whomping boatload of nail mail from the States (shush, spellcheck--"whomping" is so a word!) which should be here soon, and in the meantime I decided to try to relearn how to paint my nails after all this time away with one of my untried polishes, Skin Food BL514.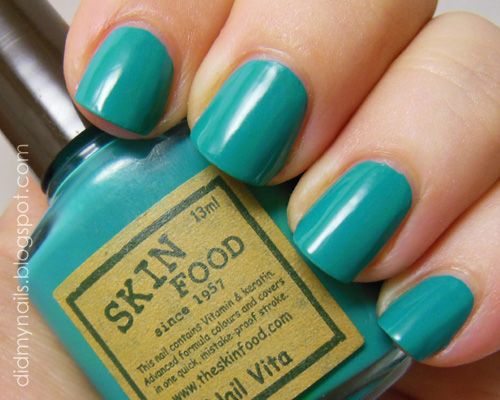 This gorgeous turquoise is one of the last polishes I picked up before I hit the road. I'd gone into the store hoping to find one of the pretty Milk shades from this Korean brand, but I barely had time to be bummed that they were sold out before this little beauty from the Vita line caught my eye. Did I need another aqua/teal? No, I did not. Did I want it anyway? Definitely.
The formula on BL514 was smooth and easy to apply, which was definitely what I needed (seriously, I think I'd forgotten how to hold a brush, much less paint in a straight line...). A little thick but only in that way that makes it non-runny and easier to control. It's a richly pigmented polish too, practically opaque in just one coat!
Before I go camp out at the post office to wait for my Stateside haul, I'd like to thank everyone who left such sweet comments (and awards!) while I was away. I did have some fun on my trip--especially polish shopping with
Brandi
(before she went all ginsu on her fingernail, ouch!) and spending time with my family--but it was also really draining, both physically and emotionally, so as sad as I was to say goodbye to family again, I'm looking forward to getting back into the swing of things here: catching up on comments, visiting new blog followers, seeing what everyone's been up to while I was gone...and maybe even trying some more of that "to do" manicure list that only ever keeps growing.
I'm also really excited because my main polish shop started carrying Nubar while I was away! Husband actually suggested I go make sure they were able to stay in business without me here for a whole month. So apparently, even with a big box o' nail mail on the way, I'm being spousally encouraged to go polish shopping this week.
Yep, he's a keeper. ^_-