Earlier this week I tried my first Sation polish...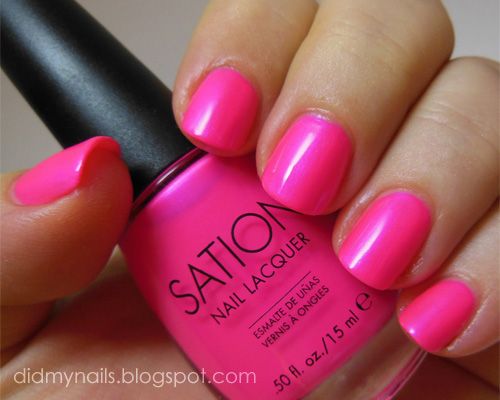 This is Sation Shock Me Twice Pink, from the California Gleamin' limited collection and yes, that's colour-accurate. It's a brilliant, amazingly neon Barbie pink that still retains a hint of softness, thanks to its delicate blue shimmer. I had no idea that shimmer was there before I started painting my nails, but it adds so much depth to the overall colour.
There's a dash of the semi-satin finish common to most neons, but much stronger is its near-jelly texture that lets the light play through the shimmery polish to make it downright luminous.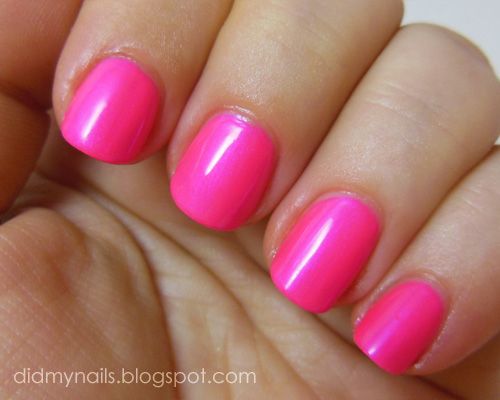 I found Sation's brush easy to work with, and drying time was good, which was fortunate because of the one drawback I did have with Shock Me Twice Pink: it took me five coats before I was satisfied that no more VNL (visible nail line) remained. That may not be everyone's experience, though; Cris at
Let them have Polish!
used just 2 coats when she
swatched
this colour (along with more of the California Gleamin' collection). Plus I always seem to need a coat or two more than most to cover my VNL. Are my coats thinner? Are my nails just weird? I'd accept either explanation. So yes, your mileage could definitely vary.
If this were closer to an actual jelly, I wouldn't have stressed a little nail line showing, but I didn't mind all the layers as much, once I saw the results. I'll probably use a coat of another pink under this one next time, though, if only to make the bottle last longer.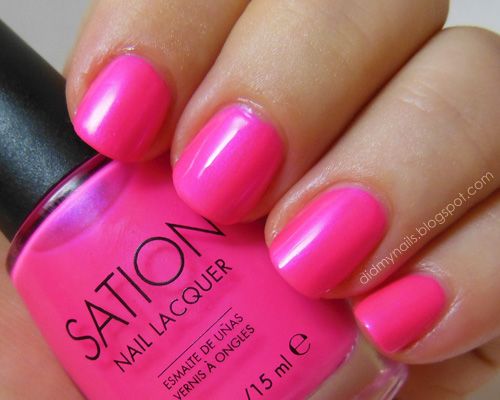 Okay there is one more little drawback...but this one's a strictly personal problem. This polish was a gift, and now that I'm eager to try more of the California Gleamin' collection, I don't think Sation is actually available here. Oh, but speaking of which! I've done some more research and and some more hoofing it around town, and I'm almost ready to add some updates to my post on
where to find nail polish in Hong Kong
. I just need to check one more retailer first. Fingers crossed, I may have found the Deborah Lippmann counters!