Since I was rushing to meet the deadline for my Tuesday post I only did one hand, so I needed to do some "walking around" nails...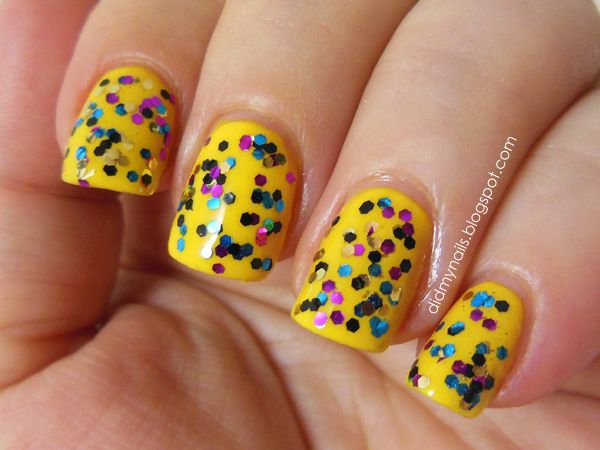 In the mood for some glitter, I grabbed Icing Love It (then again, I'm hardly ever
not
in the mood for glitter...). One of my recent buys from the States, Love It is a cheerful mix of small, hex glitters in gold, teal, purple, and black. For a contrasting base colour I went with OPI Need Sunglasses? underneath. Husband accurately refers to it as my "canary" yellow. It's definitely a contrast! Maybe even too much. But, onward!
Need Sunglasses? took me a jillion coats to build to opacity (today a jillion equals a little more than 4), but that often seems to be the case for me with yellows, neons, or pastels--even ones that cover completely for others in just a couple of coats. And of course yellows are notoriously finicky about streaking if you don't let them dry enough between coats, so I took my time about getting these done.
I was really pleased with how Love It applied. I'm wearing about 2 coats of it here--approximate because I did do some follow-up dabbing to fill in some bald areas. Overall, though, if you lay the brush flatter against your nail instead of just brushing with the tip, the glitter doesn't put up much of a fight, and the clear base it's suspended in is "slippery" enough that you can pretty much just push the glitter over to where you want it. That plentiful suspension base also left me with a few air bubbles when it dried, but they were very minor, hardly noticeable against the glitter--plus, as a more than acceptable trade-off for those few bubbles, it left a much smoother finish than you usually get from a glitter polish.
One coat of Sally Hansen Quick-Dry Top Coat left my "confetti canaries" bright and shining! But even as I enjoyed them I knew it was only a matter of time before I gave in and went matte.
The difference isn't hugely dramatic, but I love it. I'm such a sucker for matte over multi-coloured glitters! As you can see, it doesn't stop them reflecting entirely, but cutting down on the shine really lets you see the colours for themselves.