A while back, I saw Nicole by OPI Rainbow in the S-Kylie at Sasa, but since I was planning to get OPI Rainbow Connection, I decided not to pick it up. Then Rainbow Connection sold out like mad, and S-Kylie was long gone when I went back for it. I mean, of course it was, right? Because that's how it works.
Luckily for me I recently did my first couple of nail polish trades, with two amazing bloggers (and thoroughly awesome women), Brandi of
The Collegiate Nail
and Tara of
Polishy of Truth
. And among the fabulous polishes I got from them were two bottles of Rainbow in the S-Kylie! This is a lush, playful glitter fantastic enough for me to be totally excited about having two of, and out of all the polishes I hauled back from the US, it was the first one I wanted to wear.
I decided to make a glitter sandwich out of polishes from these swaps, so I started with another wish lister that Tara sent my way, OPI Skull & Glossbones, from the Pirates of the Caribbean collection. Then I used two coats of Rainbow in the S-Kylie...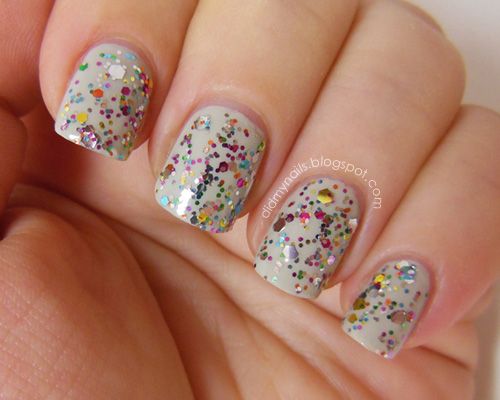 Rainbow in the S-Kylie, 1 Coat
Rainbow in the S-Kylie, 2 Coats
I'm so in love with this glitter! Seriously, I'd been coveting it (and/or any of the Deborah Lippmann Happy Birthday dupes, really) so hard for months that I was worried it couldn't possibly live up to expectations, but it is officially awesome. It flowed surprisingly well onto the nail, not clumping or doing that annoying thing some glitters do where all the pieces decide to congregate at the tip and have to be wrangled into some semblance of order. I had one piece of large hex on my index finger that wanted to dangle over the edge, and I did just a little bit of dabbing to fill in a couple of empty spots, but it really applied well. And the colours are so amazing! I honestly considered not topping it with anything, but I still had my heart set on that sandwich, so I added a coat of Wet n Wild 2% Milk, which came--highly recommended--from Brandi.
I'm really happy with how it came out. The brilliant colours are still there, only slightly muted; the Wet n Wild 2% Milk has just enough opacity to coat without covering up, leaving the glitter still bright and colourful under a pretty, translucent, jelly shine.
I wore 'em like this all day, loving the effect, but in the end I couldn't resist adding some matte top coat, just to see what it would do.
Love.