With summer in full swing, I thought it would be fun to finally try some watermelon nail art. I've had these on my to-do list for ages now--they're so cute and colourful and, I think, perfect for summer.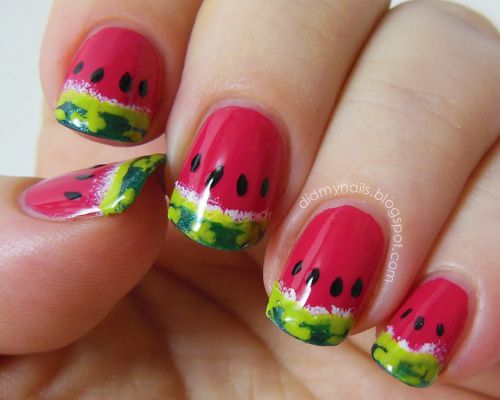 One of my favourite early memories is sitting on the patio with my mom, eating watermelon under a big umbrella to beat the heat. She put a little bit of salt on hers, which I thought was so weird until I tried it, and it turned out to be delicious!
I started with two coats of China Glaze Heli-Yum, a bold, rich pink that's cheerfully bright without verging on neon (I do love me some neon, but it's not what I look for in a piece of fruit). After that I sponged on some white near the tips. I honestly can't remember if I used OPI Alpine White or OPI My Boyfriend Scales Walls--any white or near-white would be fine, really. Most of the watermelon nails I've seen use a striper for the white, but I decided to sponge instead, figuring a thinly sponged layer would be a good base to keep me from needing 2 full coats of the dark green over the very bright pink (those tips are thick enough as it is, thanks to my novice nail art skills ;p). I actually think it looks a little bit more like real watermelon, but my third and biggest reason for doing it this way was that the last thing I wanted to do was get all the way through painting the rind and then muck it up with a wonky white line and have to start over. >_<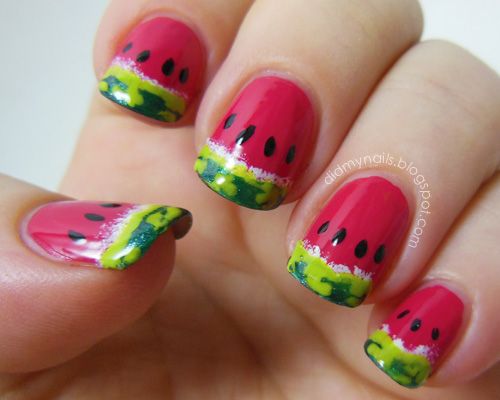 So yes, the rind! I painted the tips with China Glaze Watermelon Rind, a great, shimmery green I hunted down specifically to use for this (but seeing how pretty it is, I'll definitely be trying it on its own soon!). Once it was dry, I used OPI Who the Shrek Are You? to doodle on the lighter green lines with a toothpick. Then I dotted on the little seeds with the tip of my Orly Jet Black striper brush to give them that oval/teardrop shape, added a top coat, and that was it!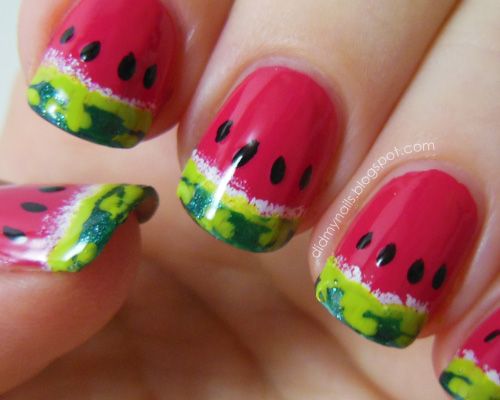 I think I was so excited to be done that I rushed the Seche Vite, which led to the tiniest bit of streaking, but it really wasn't noticeable at all. Phew!