What's in a name? A polish by any other name may be as pretty, but one this awesome deserves better than the alphanumeric soup that is Sasatinnie FCGL002, a recent find from the bins at Sasa. It's a deep purple polish with gorgeous little flakes of opalescent colour. But unlike with a typical "flakie" polish, these don't depend on the changing light; the multi-coloured awesomeness is built right in!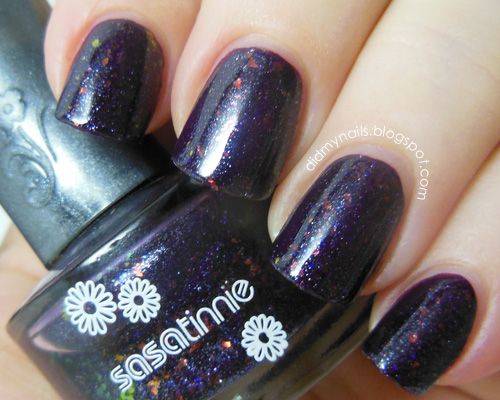 Shown above is 2 coats over Revlon Colorstay Bold Sangria, which is a good match for FCGL002's dark purple base. It probably would have layered up just fine by itself, but I figured I might as well conserve the awesomeness (I sure am saying "awesome" a lot about this polish!). From all the swatches I've seen online, FCGL002 is a very near dupe for Orly Fowl Play and OPI Merry Midnight, both of which are extremely hard to find these days, and it costs less than $3 US a bottle (downside, I have to doubt it's 3-free). It hasn't killed my Fowl Play lemming, but FCGL002 is definitely a fantastic find. Another score for the Sasa bins!
Ooh, in scheduling this post, I just realized it should be going up on Friday the 13th--good luck today, everyone!