Even though I'm hoping to find gobs and gobs of new polishes in the States, I still have quite a few untrieds, so I reached into my stash and came out with OPI In My Back Pocket. I've used it
here
and
there
for decoration but still had no idea what it looked like all by itself. Well, once I put it on, I was totally smitten. In My Back Pocket is a vibrant, cheerful, almost Dreamsicle orange that's so very yummy and perfect for summer.
It's been a while since I wore a straight, creme polish without any shimmer, flakes, glitter, or other extras, and I really liked the look. Only, I've never, EVER been known for leaving well enough alone and decided to try something new: freehand rose nail art.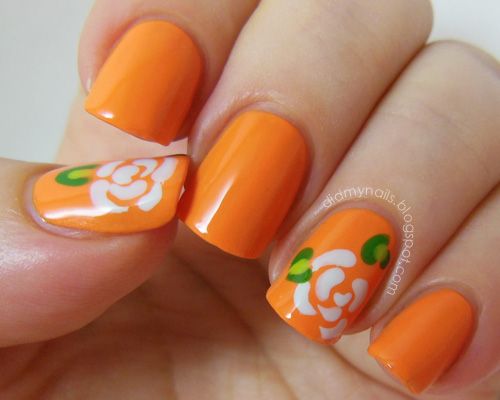 I grabbed my small dotting tool and 3 of my trusty standbys: OPI My Boyfriend Scales Walls, OPI Who the Shrek Are You?, and Jessica Mint Mojito Green. This was the first time I ever tried freehand roses, and while they aren't perfect, I'm very happy with how they came out. And they were so quick and easy, too! All I did was dip my dotting dool, drag a few semi-circular swipes, add a couple of leaves, and blam, that was it.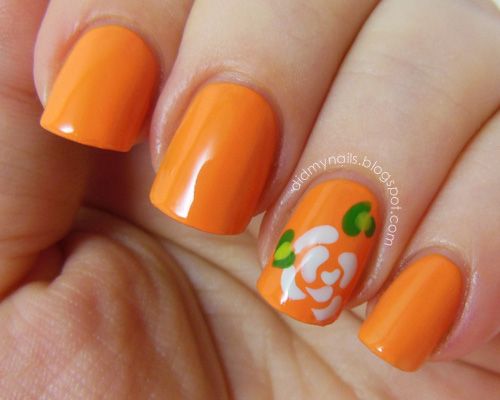 If all goes according to schedule, I should be in the air and on my way home when this post goes up, but I'm actually typing this up with all of an hour left before I head to the airport to start this whole trip. Talk about cutting it close! Total panic mode, but it's what I do. I hoped to have another post in the queue in case of unforeseen travel delays--or the more likely "me still trying to get my jet-lagged butt back in gear"--but I'm officially outta time. Hopefully I'll have some great, new polishes from the States to play with when I get back, and I hope everyone's had a fantastic July!