I picked up several of the new Zoya Beach and Surf collection polishes a little while ago, and since then I've mostly just been staring at how pretty they all look together in the bottles. It's nice to see collections this cohesive, whose colours look this good together, as opposed to being a random batch of "We have these colours ready to go, so we're going to pretend there's a theme to it." But I didn't buy these guys just to admire them in the bottles (not that I can't see myself doing that--I just didn't do it here ;p), so I decided to start with Tracie.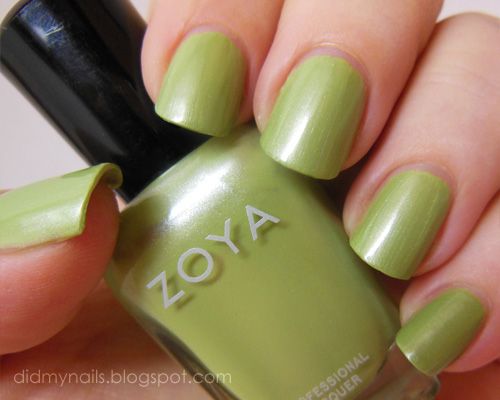 Zoya Tracie is sort of the odd-girl-out in this collection. She's the only one of the Beach polishes that's not a straight creme, but she doesn't have anywhere near the amount of shimmer that the Surf side has. Tracie is an avocado or pistachio green, refreshingly cool but still warmed by its yellow, with a pretty, silvery micro-shimmer.
Application was smooth and easy, covering the nail line much better than a lot of shades this pale seem to manage. It's easily opaque in two coats, but I have about 2 1/2 or 3 on most of my nails because Tracie was just a little more brushstroke-prone than I expected, due to the micro-shimmer. During application, I was actually a little worried it might be too brushstrokey and frosty for my personal taste, but it rode right up to that line, then slammed on the brakes, resulting in a soft, satiny finish.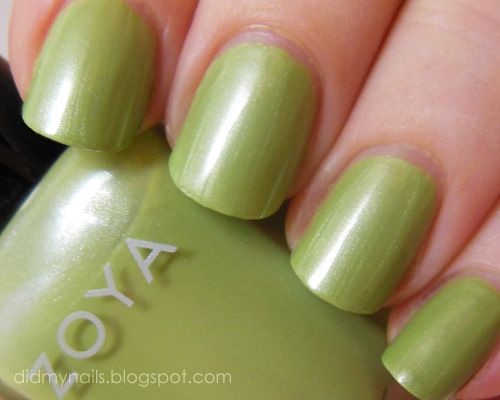 Without that pretty shimmer, it might tip either towards "retro kitchen fixture avocado" or "not bold enough to be lime" green, but the resulting finish retains its soft colour while making me think of crunching into a fresh, juicy, green apple.