Now that my polish obsession has been simmering for a while, I'm starting to see nail art ideas all over the place. A lot of those ideas are more complicated than I can manage yet, and they get sketched in Photoshop and saved for later. But sometimes if I pick the right polishes and cross my fingers (though not while I'm actually painting them because that would be messy and awkward), a nice, simple idea can turn into something pretty cute.
When Husband gave me a bag of M&M's, my first thought wasn't about chocolatey deliciousness; my first thought was, "I have to put these on my nails!"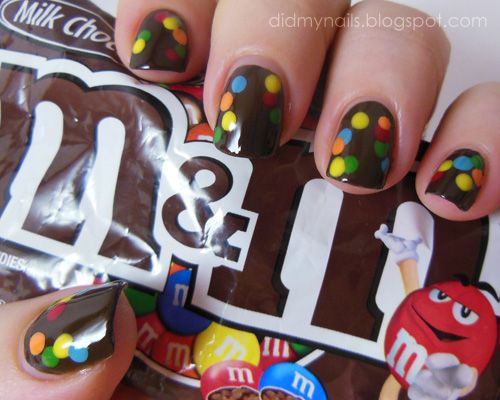 I love how Red's all, "Check 'em out, baby!"
The dark, chocolate brown is OPI Suzi Loves Cowboys, and the candy dots are OPI Need Sunglasses? (yellow), OPI In My Back Pocket (orange), Revlon Colorstay Red Carpet (um, red), China Glaze Flyin' High (blue), and Jessica Mint Mojito Green (yep, it's green).
I wanted so badly to put little m's on some of them--I even tried a few with a toothpick on a paper plate--but decided this was another opportunity to practice Leaving It Alone. You know how fashion consultants say you should get completely dressed and ready, then take away one item of jewelry (or an accessory or whatever) before you go? Yeah, I never do that either. But it's some advice I'm trying to keep in mind when I do nail art. There's always some extra touch, just one little thing more that I want to try, and it always ends up being the thing that makes it too busy or overdone or mucks the whole thing up, making me take the whole thing off in a fit of polishrage. Or it's that little, tiny mistake that really you're the only one who's going to notice or care about, but you decide to see if you can't maybe just, if you're really careful...nope, now it's a gloopy horror show, and you have to do it all over. So I'm trying very hard to know when it's time to Leave It Alone.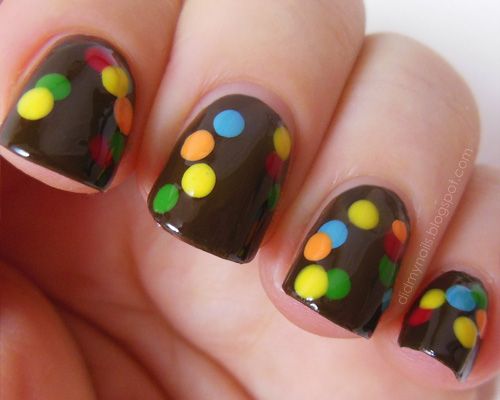 I had my nails painted brown and the M&M's sitting on the coffee table when Husband noticed I hadn't eaten them yet. I think he was either disappointed that I hadn't tucked into his thoughtfully yummy treat or was hoping I'd say, "Please, help yourself!" But I started babbling excitedly, "I'm waiting for this brown to dry, and then I'm going to use these colours and put little dots on my nails like they're M&M's, and I have to have the bag of M&M's to take a picture with when they're done, so I can't eat them until I finish my nails, and it's gonna be really cute!!"
He really is getting good at smiling and nodding and backing slowly out of the room.