I have a "nail ideas" folder on my desktop full of random pictures I've taken and sketches I've done in Photoshop, and this Tiffany-inspired manicure idea has been sitting in there for ages--pretty much since China Glaze For Audrey first came home with me. Since I've been sitting on the couch all week, basically spending my days sniffling and groaning and waiting for this crud-tacular cold, flu, or whatever it is to get bored with me and move on, I've had a lot of time to paint my nails, so I finally decided to give it a try. The final result isn't quite as "Tiffany" as I originally hoped, but I still think it's pretty cute.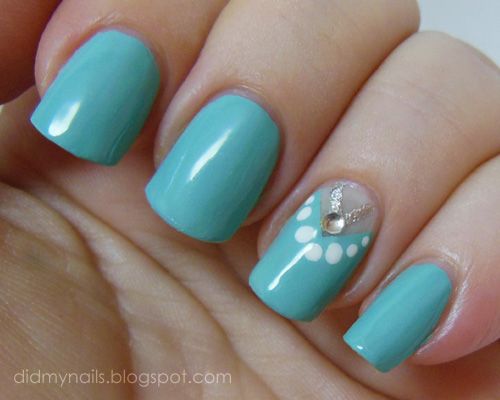 Of course the main colour is For Audrey, China Glaze's version of Tiffany's trademarked blue. The silver "chain" is Orly Dazzle, and the "pearls" are basic OPI Alpine White. There's some OPI Don't Touch My Tutu in there as well on my accent nail. Not having that step in there kept this idea from working the first time I tried it, but it made a huge difference this time around.
Unfortunately I had some problems with my For Audrey, as well as several of the other polishes I've tried using this week. Between the local heat and humidity and some of my favourite polishes (including this one) getting down to around 1/3 to 1/2 empty, I've had to do a lot of doctoring with polish thinner. I actually had to paint that middle nail about 6 times before I could lay down an even enough second coat, and it's still not as smooth as it should be. Between tired flu hands and gloopy polish, I had a horrible time getting any of the manicures I've tried the past few days to turn out well, but I think this one finally turned out okay. Enough of my whinging, though--back to the mani!
I did the "neckline" with tape, but using tape like this means you really only get to do one coat of your polish over it. Since For Audrey needs a second or third coat for full, creamy opacity, I first put down a couple of thin coats of Don't Touch My Tutu, OPI's white-tinted jelly from the NYC Ballet collection. It's an opaque enough background for the For Audrey to match the other nails with just one coat compared to the others' 2 or 3, but to be honest, I'll probably try Barre My Soul next time, which is a good match for my skin tone and will look closer to "nude" on my nail.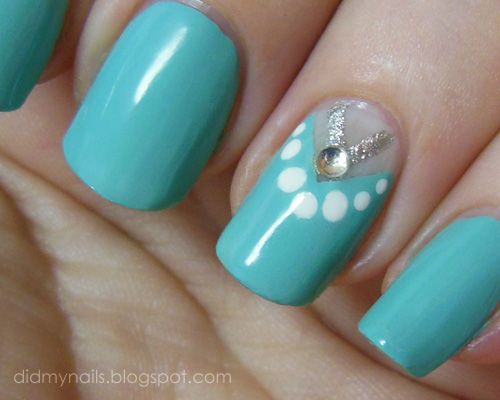 For anyone reading who's new to nail art and wants to try this design or something similar, here's a quick "How To" picture: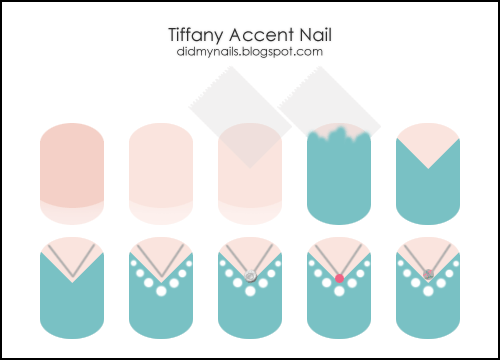 After your base coat, paint all but your accent nail in your main colour, and then paint your accent nail with a lightly-tinted jelly or any other polish that's a close match for your skin tone. After your accent nail is evenly covered with your nude/jelly, you're going to be taping over it to block out the "neckline" area, so make sure it's completely dry. Lots of people stick the tape to their hand once first to make it less sticky, and therefore less likely to pull off the polish underneath it when you take it off, but when I try it that way, the tape doesn't stick well enough near the edges of my nail and sort of tents up, leaving a gap that's hard to polish up against. Instead, I use a coat of Seche Vite (or any other quick-drying top coat) before the tape, and after a couple of minutes, the surface is dry and hard enough that lifting the tape off doesn't take any polish with it at all.
So with that prep done, take a small piece of your tape and cut a simple, straight line across the end to get rid of any rough edges from where it was last torn off. Place it diagonally across the base of your nail so that the corner makes a wide V. Next, paint the nail with your main colour. You're only going to do this once, so be generous enough with your polish to leave an even coat (but not so generous that it's going to be all gloopy and bubbling). Then go ahead and rip that tape right off, pulling towards the point of the V (if your polish underneath was dry, you don't have to be dainty about it ;p). And there's no need to wait for your polish to "set" over it; that'll only make it stick to your tape and make it harder to get a clean line when you rip the tape away.
Next comes the silver for the smaller necklace. You can do this with a striper or a thin paint brush...I did mine with a toothpick. While that dries, dot on your pearl necklace; just start with your center dot and work up and out. If you can do smaller dots towards the sides, that will add a little perspective, but it's not a big deal (I wanted so badly to go back and make my middle dot bigger, but I just knew I'd wind up blobbing on too much--Leaving It Alone is one of the hardest lessons I'm trying to learn ;p). Then all that's left is adding a pendant to the necklace on top. I stuck a small rhinestone on with a little clear polish, but you could also fish a large piece of glitter out of another polish for it or simply do a dot of another colour. Top coat and clean-up, and you're done!
For all my crabbing, I am starting to feel a bit better. Thanks so much for the well-wishes after my last post! Hopefully it won't be another 4 or 5 days before I manage to paint my nails in a straight enough line to take some pictures of it. ^_-