A little while ago, in my post on
where to find nail polish in Hong Kong
, I mentioned the bargain bins at some of the beauty supply stores around town. They can be a little hit-or-miss and aren't stocked with many familiar name brands, but every now and then you come across something surprisingly awesome. Case in point, this tiny, little bottle of Marcia Shiny Nail Colour.
This little polish cost all of about sixty cents (US) at Sasa. In the bottle, it looked like it might be a decent duochrome. At two for just over a buck, I was hardly going to be crushed if it didn't turn out to have a very good shift, but boy, was I pleasantly surprised!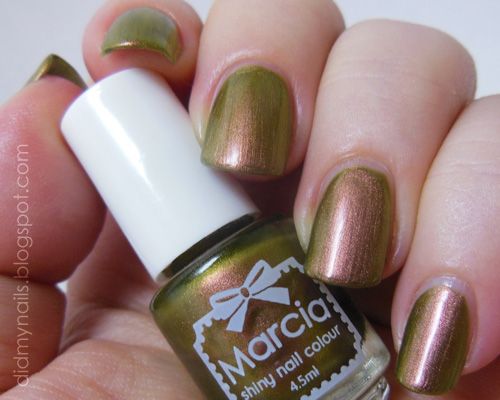 The colour variation on this puppy is incredible! It goes from a rosy bronze to a grass green with very little movement or change in the light. Seriously, I just sat there gawking at my nails, amazed that this cheap little bottle of polish was showing off the most dramatic duochrome shift I've ever seen.