My husband and I spent the past few days out at Hong Kong Disneyland celebrating our anniversary and had a wonderful time! Continuing HK's recent dreary streak, we had a lot of rain, but since we've done the park tons of times, this mini-vacation was more about loafing around our room, watching the evening fireworks from our window, and stuffing ourselves stupid at the hotel buffet. The sun did come out for a few hours on Tuesday, and in between dragging Husband from ride to ride and waiting to melt in the insane heat like one of those guys at the end of "Raiders of the Lost Ark," I found a minute to snap a picture of my new polish, Zoya Skylar.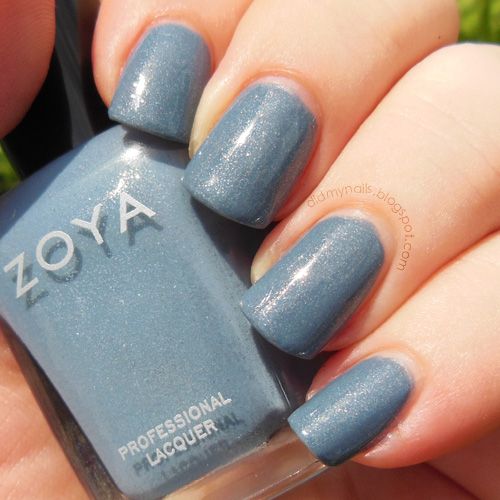 Yes, I was actually carrying this bottle around the park with me. I'd been wearing Skylar for almost two days at this point and hadn't had any good sunlight to swatch it in yet, and that's when it finally hit me; it was time to build a light box.
I still have some tweaking to do--figuring out the best light placement, fiddling with my camera's white balance, etc., but I'm very happy with the results of just a few minutes' work!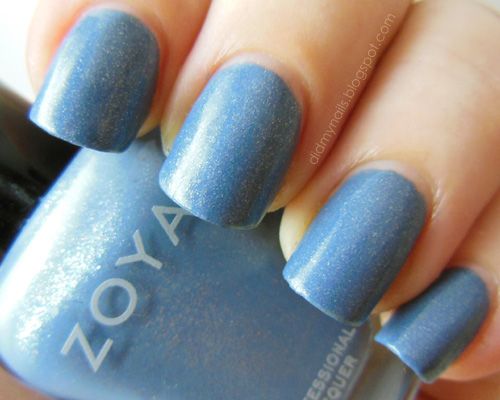 Skylar is a rich colour that can do quite a shift from soft light to daylight. Overall I'd say it's a soft denim blue with a nice hint of grey. It also has a lovely shimmer that's subtle but complex. The tiny particles are silvery, just barely verging on gold, and also lightly pink, which gives the blue some extra depth.
I had a little bit of trouble with the formula, but this is the first Zoya polish I've tried. Basically, when I applied it thinly it pulled and streaked, making it hard to lay down an even coat, but when I went thicker, it bubbled up like crazy as it dried. Fortunately a top coat of SV seemed to...I don't know if it smoothed them or ate them or what, but they totally disappeared. I've heard too many good things about Zoya and have a couple more new ones I'm looking forward to trying after Skylar, so I'm going to operate under the assumption that my problems with this one were an anomaly. They certainly won't stop me from wearing Skylar again!