Despite my growing interest, I was stymied for the longest time by the fact that I had no idea where to buy nail polish in Hong Kong. Many salons here sell OPI, but they charge around $17 US a bottle. As an alternative, people often recommend Sasa, which is a chain of beauty supply stores that sell everything from eyelid tape to designer perfumes, but while their nail polish is much, much cheaper, the stock is unpredictable and unfamiliar. Between these two extremes it was difficult to get a good lacquer fix.
Weeks of frustrating web searches for "nail polish" and "Hong Kong" either led me to the OPI Hong Kong collection or online/eBay retailers that are based here but don't seem to have an actual store, but after a lot of digging I finally found
Cher2
.
Cher2
carries OPI, China Glaze, essie, Jessica, Orly, Color Club, and Zoya for about the same prices you'd find in the US, and their selection is just amazing. Here are some of my most recent Cher2 finds: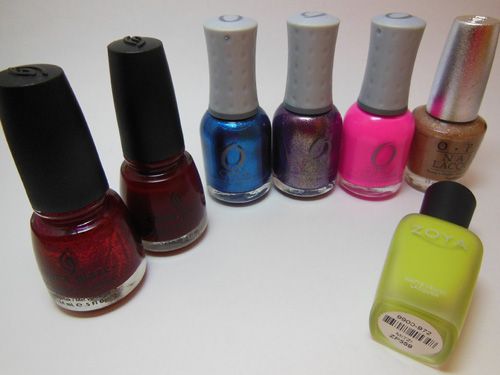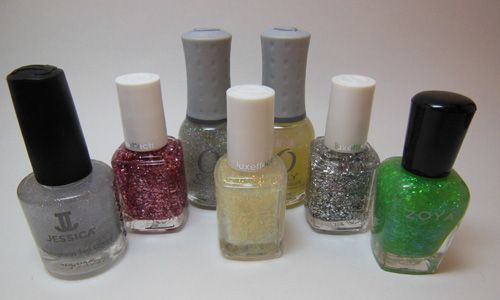 Like many retailers here, Cher2's stores are on the small side and all but impossible to stumble across if you don't already know where to look, but they're well worth the effort to find. Location addresses in Central, Causeway Bay, Mong Kok, and TST are listed on their
website
, which posts updates when new collections arrive. Cher2 participates in the "No Fakes Pledge" overseen by the HK Intellectual Property Department, which means their polishes aren't knock-offs or dupes.
With a vastly improved collection, I was ready to take another look at
Sasa
. It's the only place I know of to find
Nicole by OPI
(NOPI) in Hong Kong, but those can be hit-or-miss when it comes to newer collections. They also carry Sally Hansen top coats and treatments
(edit Sept 2013: last time I hit a Sasa, they had also stocked some Sinful Colors)
. This chain's bigger draw, what makes it such a popular place to shop for polish here, is its bargain bins. There is simply no telling what you'll find in these from visit to visit. Most brands will be totally unknown to Western shoppers, but it's easy to take a chance on an "unknown" this cheap. The most expensive brands I saw in the bins are Revlon, which is still only about $3 US, and the comparably priced Sasatinnie (the "house" brand). Here's what I dug up on my first trip: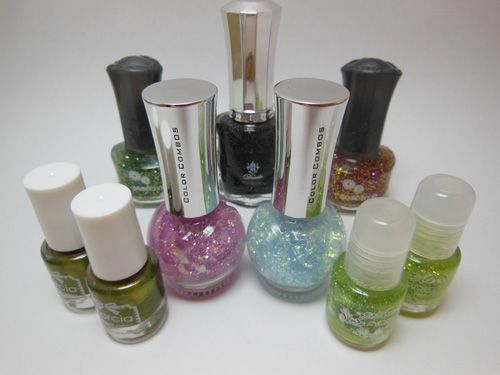 A little more searching online revealed that in addition to having a
Sasa
just a few minutes' walk from my apartment, I'm also just as close to both a
Bonjour
and a
Colourmix
. Like Sasa, their polishes are also piled into bins.
Bonjour
had more brands I'd never heard of before (some of which appear to be Korean), but again, they were cheap enough that I didn't mind shelling out a dollar or two US on the off chance that this glitter or that duochrome might be a winner (I also grabbed a couple of super cheap clears to try my hand at mixing some polish myself). They had a few nail art supplies as well, so I picked up a set of brushes for under $4 US, plus some tiny bottles of micro beads. A word of note about Bonjour's bin polishes, though: the chemical smell from them can be quite strong. I'd be greatly surprised if any of them is 3-free.
In addition to the bin polishes, Bonjour also carries some
Bandi
, a Korean brand I've shown a few times here, as well as occasional the OPI and Essie from past collections.
The bins at
Colourmix
weren't as "bargain" as the others, but a few minutes' digging yielded some great results. Not a day after I saw Revlon Whimsical online and lamented that it would be all but impossible to track down here, I found it sitting right on top of the bin at Colourmix! I also found a cute lime green by The Face Shop (a better known Korean brand), as well as a stash of Nfu Oh GS01. Is it glitter? Flakie? A flakie-glitter? Don't know, don't care. Nabbed it.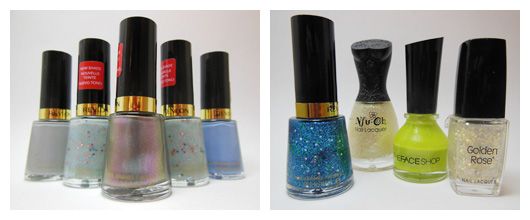 When it comes to
Konad
I've only found
Purple House
in Mong Kok (store 149 in Sino Centre on Nathan Road). The store is downright claustrophobic, bursting at the seams with all of 6 people inside, but I came away with all the necessaries to give stamping a try, as well as a few nail art extras.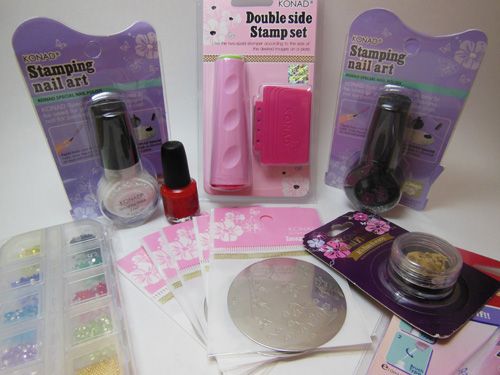 The two main drugstore chains in Hong Kong are
Watsons
and
Mannings
. Unlike American drugstores, most don't carry cosmetics, but some of the larger branches do. The
Watsons
near me carries mainly Revlon, the selection of which is relatively large but doesn't update very often. It also carries some Bourjois, a few Max Factor polishes (alas, no Fantasy Fire), a handful of Kate (a Japanese brand), a couple of Majorica Majorca, and similar.
Mannings
has an even smaller cosmetics selection than Watsons, but the one by me does have a rack of OPI. Again, though, it's not a very large selection for the same price as at a salon, $132 HK a bottle, which is about $17 US. Ouch. Occasionally, however, they run a "Buy 3, get 2" special, which is *much* more reasonable.
So many brands are simply not available here, but my collection is starting to fill out nicely. I'm going to continue the hunt for more retailers, though, so I'll be back to this post with an edit if I find another one worth sharing. Meanwhile, it's nearly time to tackle my next challenge...storage for this growing collection!
Updates, April 2013...
Deborah Lippmann
Yes, I finally found it! Several Joyce and Joyce Beauty locations in Hong Kong have Deborah Lippmann counters. Among them are two in Central (Queen's Road and IFC Mall), as well as Admiralty (Pacific Place), Causeway Bay (Times Square) and TST (Harbour City). DL's
website
has a full listing of these locations.
Skinfood
This is the brand, the stores that sell the adorable little
milk bottle minis
, as well as the
Vita line
that has such great pigmentation and coverage. I shop at the one in Causeway Bay, which is around the corner from where the Internet says it is. Basically just cross the street, and you should be able to see it from the corner. Their
website
lists 17 locations in HK, but given the way commercial properties move around in Hongkers, you might want to try phoning first before striking out for one of the others.
Etude House
Etude House is a popular Korean cosmetics brand that recently came to Hong Kong. Their nail polish selection seems to change fairly often, depending on what's new and/or in stock, but they generally have a selection of bright cremes and adorable glitters. Etude House's style is cute and trendy, so it's pretty crowded at peak hours. Incidentally, this is where I bought the brush I use for nail clean-up; it's a flat, black, angled brush that's supposed to be for, I think, eyebrows? But whatever its intended purpose, it's great for manicure clean-up.
Etude House's newest location (as of April '13) is in Causeway Bay, right across the street from MTR exit E. Their
HK website
also lists two locations within blocks of the Mong Kok MTR station. The first, in the Fook Tai Building, is on the corner of Soy Street and Sai Yeung Choi St. S, just off Nathan Road on Mong Kok. Basically, you take MTR to Mong Kok Station and go out exit E2. Nathan Road will be right behind you. Turn North (should be your left, facing Nathan Road with E2 behind you) and walk about two long city blocks until Soy St., which is a pedestrian plaza. Turn left, and Etude House is on the far corner. To reach store 2, come out of D3, and Argyle St. will be directly behind you. Turn right on Argyle, and Etude House should be about a block down on the right.
Purple Words
(
website
)
Purple Words has locations in Causeway Bay and Mong Kok and carries OPI, China Glaze, and Essie. Decent selection of recent collections and occasional HTF surprises, at least at Causeway Bay.
Kiss Beauty Boutique
Locted in iSQUARE, in TST (right outside MTR exit C1) at 63 Nathan Road. Kiss carries
butter LONDON
, Deborah Lippmann, Orly, and a couple of other Western brands. The prices are very high, though. Serious import mark-ups, but for a tiny shop, the selection is quite good.
Missha
(
website
)
This Korean brand has a few locations in HK and stocks their nail polish lines. They have a gorgeous selection and variety. Their polish lists at about twice the price here as it does on the US website, though, I don't shop there often.
Chanel and Dior
These and other designer brands like Estée Lauder, Lancôme, and YSL. can be found at SOGO (Causeway Bay), Apita/Uny (Cityplaza in Tai Koo), Harbour City (TST), and other malls with higher-end makeup counters. SOGO also carries NARS and M.A.C.
Harbour City
Harbour City is more than just a department store; it's a street of department stores stretching several blocks, starting at Hong Kong Harbour and running along Canton Road in TST. If you can check the
website
before you go and pinpoint the location of the store(s) you want to hit, you can save yourself a lot of the wandering-in-search-of that I did on my first visit. Towards the Harbour end is
Faces
(aka Facesss), a whole area of smaller cosmetic counters in which I found Spa Ritual, NARS, and M.A.C. (which may or may not have polishes, depending on the current collection). There's also a Deborah Lippmann counter in the Harbour City Joyce.