It feels like Hong Kong's been nothing but gray skies and rain for ages, so I wanted something bright and cheerful on my nails. I had a giant bottle of filtered tap water sitting out at room temperature just waiting for me to give water marbling another try, and this time it didn't end in messy, dismal failure--yay! The sun actually poked its head out of the clouds for all of about 18 seconds, so I zoomed downstairs to nab a quick picture or two.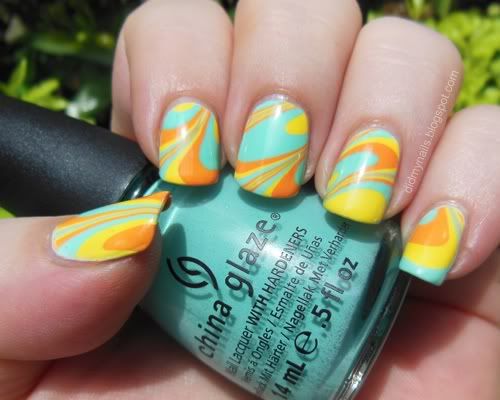 Colours are OPI Need Sunglasses?, OPI In My Back Pocket, and China Glaze Aquadelic (I'm clearly hooked on blue these days). I laid down a coat of OPI Alpine Snow first, which really helped the colours pop. That white managed to peek just a little bit around a couple of edges, but it's not a "real life view" big deal.
Some of the lessons I learned this time about how to do a water marble manicure are probably blindingly obvious to people who've done a few, but even after reading and watching several tutorials, it still took some trial and error to figure out some of the little details.
The first time I tried a water marble, the water temperature was all wrong and made the polish dry/harden too quickly to spread. I also figured out that the bowl I'd used was too big, so even if I'd had the right water temp, the polish would have had too far to spread. That wouldn't have prevented it from working, I don't think, but it would have wasted a lot of polish. I picked up a cheap, little glass bowl for about $2 US--I think it's literally a finger bowl--that I can use just for water marbles and not worry about it getting smoodged with dried-on polish.
So this time around I'd lotioned my hands too recently for masking tape's liking, and it refused to stick. Scotch tape worked better, but I had to mummify my fingers to get it to stick to itself instead of my skin. Note to self for next time: lotion comes AFTER.
I also realised I didn't have to toothpick the whole puddle before dipping my finger; just having a little area I liked was enough. Every little pull through the polish stretches the whole design in little ways, so sometimes when you keep going in hopes of maybe hitting upon a spot you like even better, you end up warping it all too much and don't have that first spot to go back to. After all, only the tiniest bit of the whole picture ends up on your nails, so you're only really aiming for a little curve or two that you like.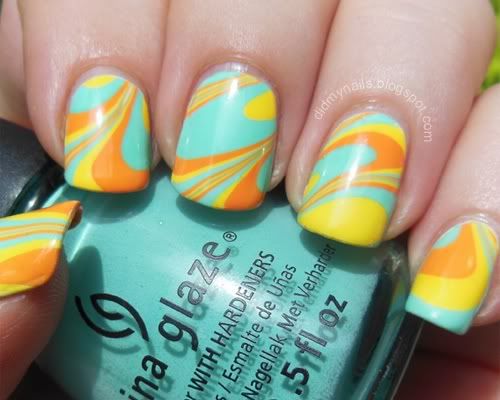 Something else I learned was to change the water often.The toothpick does pick up MOST of the polish when you swirl it around your finger, but little bits of still-wet polish can spill out and dry clear on the surface and affect how well your next drops will spread. This time I ended up pouring my water out after every couple of fingers and wiping out the bowl before refilling. Result: much better spread from my polish.
The biggest thing I figured out this time was a total eureka, head-smacking moment: where I was sitting made all the difference! I had polishes that were spreading well, I had my room temperature water, I was changing it to keep it clear, and all those failed efforts were behind me! I'd figured it all out! Or so I thought--after sailing through my left hand, suddenly the polishes just didn't want to spread. What was wrong? I changed the water again, but no joy. Then it hit me: the air conditioner I was sitting in front of had kicked on, and the cool breeze from it was blowing right onto the coffee table! I grabbed the remote, switched the air off, and holy puddles, Batman! That polish spread like a freaking DREAM. It started working so well, in fact, that I actually had to sit there and wait after dipping my fingers before the polish was dry enough to pick up with my toothpick.
I'm not saying you need to turn off your air conditioner to do a good water marble; just make sure you're not sitting right in front of the vent (I would have moved to the dining table, but it's in line with the same aircon--Hong Kong apartments are TINY). This one last discovery made all the difference, and I finally had it: my first successful water marble manicure!