OPI DS Extravagance is a full-on stunner. Straddling the line between pink and purple, it's what I'd call a fuchsia grape. The colour is lovely, but this polish's rep as a good holo is what really landed it on my wish list. Even in low light indoors, my husband's succinct review was, "Ooh, sparkly!" Then I took it outside, and... You know how people tell you that pictures don't do a polish justice? Pictures do NOT do this polish justice. So here, have a picture!
The first words out of my mouth were, "Holy mackerel!" Yes, I actually said something that corny. Out loud, even. But faced with the awesome power of Extravagance's shimmery, holographic sheen, I was helpless to retain my cool. Before I start gushing endlessly about the rainbow brilliance, though, I'll diverge and gush a bit about application and formula.
DS Extravagance glided on smoothly and easily, covering remarkably well. In fact, I could easily have gotten away with just a single coat...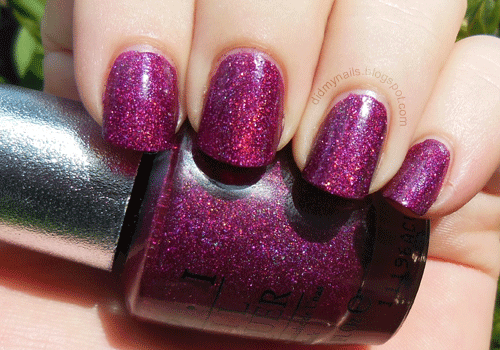 ...but when backlit, the tips did show some slight spots where the coverage (or my paint job) was just a little thinner. Mostly, though, I went ahead with a second coat to see what effect, if any, it would have on the holographic shine.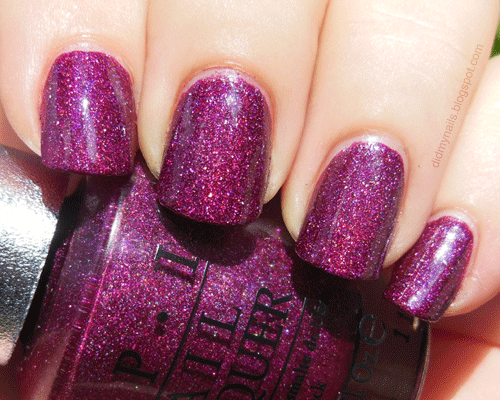 A second coat didn't amp up the holo in any meaningful way, so if you want to use this polish sparingly, one coat, nice and even, should get the job done. Additionally, I wondered whether a top coat would diminish the sparkle, so the picture above (and below) has a coat of SV on pointer and pinky. The top coat gave the surface a little more reflective shine, but the depth of the shimmer wasn't affected. And speaking of that depth, since I was having so much trouble actually capturing the holographic kaPOW, I took a slightly blurred pic to show, hopefully, just how much is going on beneath the surface.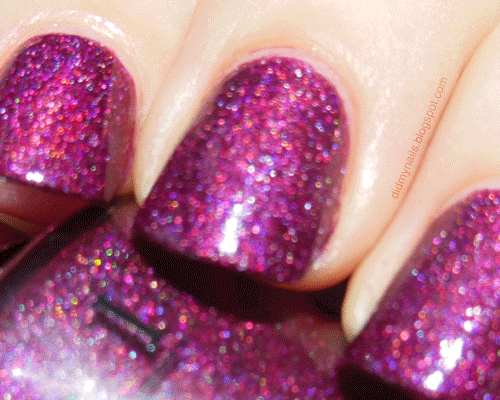 Extravagance is at its best in full light, where it can strut its holographic stuff, but unlike some holos that fall flat in lower light, this one still shows some nice, shimmering depth in the shade, too.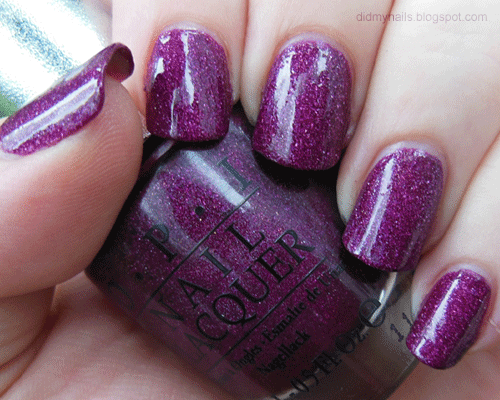 For such a glittery, sparkly polish, I'm crushing so hard on Extravagance's jelly-smooth texture. And thanks to a ridiculously failed attempt to add some art to the tips, I can also report that it comes off smoothly as well. I am officially on the hunt for more OPI DS polishes!