So often I start my nails with one idea in mind, and then they end up going in a totally different direction. When I laid my base coat down, I'd planned to do a jelly sandwich with one of the glitters from my latest haul. But Sea Spray was just sitting there, batting its eyelashes all soft and creme-y, so I decided instead to give my first gradient nails a shot, pairing it with Recycle (both by China Glaze) to try to pull out the gray tones in the Sea Spray blue...
I still had glitter in my head from my earlier plans, but rather than obscure the gradient with something more opaque, I went with OPI Pirouette My Whistle from the new NYC Ballet collection. Quick top of SV, and I'm actually pretty pleased with how my first gradient attempt came out.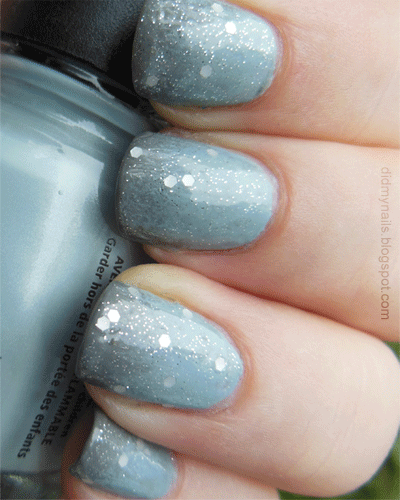 It was raining pretty hard last night, and I was surprised to notice...I mean, I totally did it on purpose...that they looked a bit like the rainy, gray sky!