Continuing to play with the polishes from my last haul, I took China Glaze Liquid Leather and Color Club Covered in Diamonds out for a spin. I've been looking for a good, new black for a little while. The Revlon Stiletto I've been using is a nice, thick one-coater, but when I need a second coat just to tidy up lines and edges, it gets a little thick. So, first I did a swatch of Liquid Leather...
I am delighted with the formula! I'd read that some people found it a bit runny, but it went on like a dream for me--I actually gave a little gasp when I saw how smooth it was! It covered beautifully in one coat, and when I went back over to catch some edges I'd missed, it settled very nicely. The swatch above is without any top coat, and it really does shine like leather, especially in sunlight.
I could have happily left it there, but I still wanted to test drive Color Club Covered in Diamonds, my first flakie polish, with it. The pairing did not disappoint!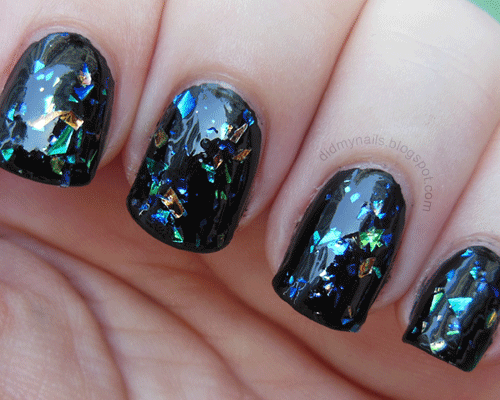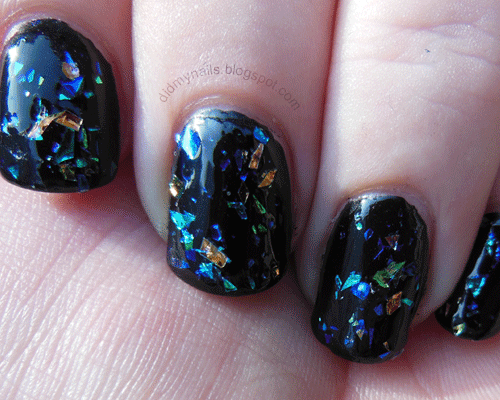 Even though the sun had hidden behind some clouds while I was applying Covered in Diamonds, I was still so happy with the beautiful, multi-coloured shimmer of the flakes. I used two coats because I was just so into the gorgeous, flake-y colours, but next time a single coat should do just fine.
CiD is so much more lush than the bottle alone suggested, and I am officially on the hunt for more flakies. The only problem I had with it is that a few of the edges didn't quite flatten on the nail, so it's a little poke-y in a couple of places. A top coat of SV smoothed most of those out, but I still have one little poke-y spot on my thumb that I can't stop running my finger over. It's really not a bother, though. Actually a secondary problem--which I'm positive is related--is that there's a little spot on the end of my other thumb where the polish has chipped off this morning. I think that's because of a flake that was sticking out a little and got pulled off during the night, so it's worth making sure you don't have any edges out past the edge of the nail. Aside from that (those) little details, I'm really happy not only with both polishes but with how well they play together.