Third time is the charm! I've tried galaxy nails (or nebula nails) twice before, but this time I think it finally clicked. The technique is deceptively simple once you get your head wrapped around it, and while I still have room to improve--there's always room to improve--I can't stop staring at the results.
I don't know how many times I must have watched
cutepolish's tutorial
on galaxy nails over the past month or so, but as easy as she made this awesome technique look, I was still having trouble translating those simple instructions to my own hands. Then I realized that while I was focused on trying to duplicate cutepolish's great results, on following her process as exactly as I could, I wasn't letting my own imagination come into play, and letting go of the idea of "perfecting" this technique ended up improving my results immensely.
In my first couple of attempts I was trying to be so very precise with my sponging, but galaxy nails are so much more fun to do when you stop stressing about making them perfect. They're everything I loved about finger painting when I was little--you can get your fingers messy, paint outside the lines, and use any colours you want!
I started with China Glaze Liquid Leather, then sponged on OPI Alpine White, OPI Who the Shrek Are You?, OPI Fly, Max Factor Deep Mauve (Max Effect), OPI The Color to Watch, and OPI Ski Teal We Drop. Then dots of Alpine White, a coat of China Glaze Fairy Dust, and a top of SV.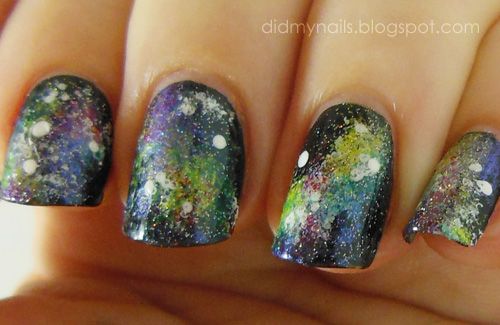 I actually took some snaps along the way and may use them for a tutorial of my own in a couple of days (edit: did it! it's right over
here
), but for now I think I'm going to go spend some more time staring at my hands. Then possibly watch some Star Trek. Before I go, though, one last picture...
...because sparkly Fairy Dust stars make me happy.