I came home with my ginormous polish haul last Friday only so disappointed that my evening plans had been canceled because it meant I could sit down and start swatching my new pretties right away...only I was distracted by a sudden, desperate need to give this blog a makeover. So, hey, new layout! But when I needed a break from over-obsessive Photoshopping ("Hmm, this bottle isn't quite red enough...no, wait, now it's too red...") I took some time to try out some of my new polishes, starting with Fast Track, representing District 6 (Transportation) in the China Glaze Hunger Games collection.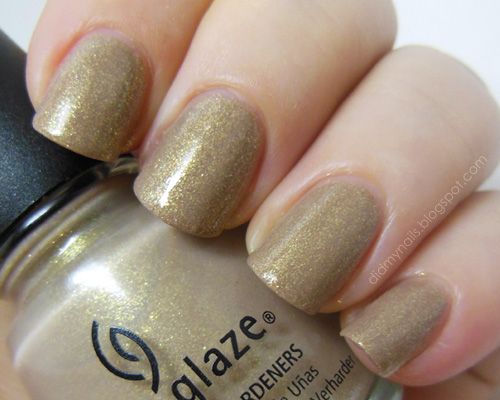 Fast Track is an interesting polish. It has a tendency to go "mannequin hands" on a lot of people, but I could not resist the gorgeous, golden shimmer in that bottle.
The formula was great, if a little thin. Even the first coat showed a lot of its gold highlights, but the rest of the colour practically faded into my skin tone. The second coat was quite a bit better. Still smooth, still shimmering all pretty and golden. Nearly opaque, despite the thinness of the formula. I still wasn't really seeing the tan colour very much against my skin, but with some VNL still showing on a couple of nails, I decided to keep going. I'm glad I did, too, because the third coat made a big difference.